Urbanscooters.com is pleased to announce the addition of the Go-Ped ESR750H Hoverboard to its collection of quality electric scooters.
Urbanscooters.com is pleased to announce the addition of the Go-Ped ESR 750H Hoverboard to its wide collection of high end electric scooters. The Go-Ped ESR750H Hoverboard electric scooter kicks the Go-Ped ESR750EX up a notch by incorporating the revolutionary Cantilevered Independent Dynamic Linkless Indespension (C.I.D.L.I.) suspension system. The ESR750H Hoverboard has the same suspension system featured on Go-Peds successful electric scooters and other off-road products like Go-Ped Trail Ripper, Trail Ripper Quad, Go-Ped RIOT 29, Go-Ped RIOT 46. This advanced suspension system gives you unbeatable comfort, riding and handling characteristics on road or off. It's also adjustable to provide either plush or firm support so you have the perfect balance to suit your needs. This electric scooter is adjustable to provide either plush or firm support so that you have the perfect balance to suit your needs. The ESR 750H is powered by a 1000+ watt advanced technology GoPed electric motor that offers state-of-the-art performance and reliability. Thrilling acceleration, speeds up to 20 mph and outrageous hill climbing are par for the course with this unique gliding machine. It's extremely durable, reliable and easy to maintain. Innovative and high quality features abound with the Go-Ped ESR750H Hoverboard, like carefully designed ergonomic controls, powerful "Mad Dog" disc brakes, a built-in smart charger and an ultra-modern programmable controller. The dual performance feature lets the rider chose an "Economy" or "Turbo" mode to go either "twice as far, half as fast", or "twice as fast, half as far". This gives you absolute control over your choice of speed and range. The ESR750H's lines are simple yet elegant. The molded "motorcycle style" rear fender gives it an aerodynamic look and super cool sense of style. The fit-n-finish on the Go-Ped ESR750H Hoverboard is impressive! It's superbly engineered down the smallest detail and built using only the finest components. As with all electric scooters, the Goped ESR 750H is clean, quiet and environmentally friendly.

ESR750H Electric Scooter Specifications:
• Speed: 20 mph (turbo mode) / 12 mph (economy mode)
• Range: 12+ miles (economy mode) / 8+ (turbo mode)
• Motor: A 1000+ watt, 24V DC, ultra efficient brush motor with aluminum "Electro Head" finned heat sink. A pulse width modulated advanced computerized variable speed and programmable controller. Low voltage battery protection, motor overheat protection, peak amperage protection, stall protection, and maximum speed protection. Fully sealed, dust and weather resistant.
• Frame: Patented heavy duty, ultra light, 4130 Chromoly aircraft quality carbon steel frame and fork. Aircraft grade 6061-T6 hardened aluminum handlebar. Revolutionary C.I.D.L.I. suspension system with front and rear swing arms for incredible flexibility (2.7" travel in front, 3.5" travel in rear). Heavy duty rear axle. Signature style GoPed wooden deck.
• Drive Train: Chain driven with a standard final drive front/rear sprocket ratio of 11/80. Self adjusting chain tensioner. Freewheel capable. Variable speed thumb throttle with Econo/Turbo selector.
• Battery: Four 24 volt sealed lead acid (SLA) batteries with 200 battery life cycles (max charges per battery). A built in smart battery charger (all you carry is the cord)! Fully sealed, dust and weather resistant.
• Charge Time: Up to 7 hours.
• Brakes: Ultra performing "Mad Dog" front disc brakes. The tempered stainless steel "wave" disc rotor provides for exceptional braking performance, control and safety.
• Dimensions: Length 48", Width at handlebars 18", Width at deck 11.5", Height 41", at deck 6.5", when folded 17"
• Weight: 62 lbs.
• Carrying Capacity: 250 lbs.
• Tires: 10" pneumatic, all terrain "TT" style puncture resistant street tires. Extra strong, ultra light, polished magnesium alloy rims.
• Warranty: 90 day manufacturer's warranty with a 2 year warranty on the frame and forks.
Go Ped ESR 750H Standard Features:
• Handlebars that fold and lock for easy transport and storage.
• On/off power switch.
• Reflective pad on handlebars.
• LED battey level indicator.
• Smart battery charger cord (the charger is built in!).
• Kickstand.
About UrbanScooters.com
UrbanScooters.com is America's #1 online destination for brand name electric scooters, gas scooters, push scooters, electric bikes, pocket bikes, parts and accessories. They have been offering a wide variety of motorized scooters and bikes since 2001. UrbanScooters.com is known for brands you trust, service you count on, discount pricing, huge selection, free shipping and top notch customer service.
About Go-Ped (Patmont Motor Werks)
Go-Ped launched the motorized scooter craze nearly 20 years ago and has been designing the most high-end, innovative and refined scooting machines ever since. Go-Ped's are made in the USA and the company is world renown for its dedication to GoPed perfection.
Featured Product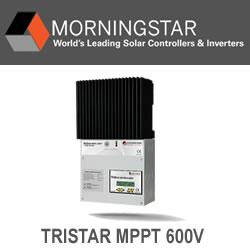 Morningstar's TriStar MPPT 600V charge controller leverages Morningstar's innovative TrakStarβ"' MPPT technology and our 20+ years of power electronics engineering excellence, to enable the widest input operating voltage range available from a solar array, wind turbine or hydro input. This controller's standard and DB versions are for off-grid applications, and the TR versions were developed to enable retrofitting grid-tied systems with battery backup.