Opportunity for cleantech start-ups to present to investors
April 30 2010 - Bath, UK - Cleantech start-ups are gathering at the Low Carbon Start Up Fest in Bath on Friday 14th May to present to potential investors, partners, and fellow entrepreneurs. Companies presenting so far include: Adfina, Carbon Voyage, New Earth Energy, Xsilon and Zenex.

Simon Bond, director of the event, said: "The challenge of climate change has unleashed a wave of high-growth potential technology start-ups looking to address new ways of generating sustainable energy and exploit better ways to make energy go further. The Low Carbon Start-Up Fest is an exciting opportunity to showcase ventures from this sector each looking to raise between £250k and £5m in the next 12 months."
Companies interested in presenting at the Low Carbon Start-Up Fest can apply by completing a short Expression of Interest form available form www.lowcarbonsouthwest.co.uk. There is no fee for companies selected to present and they will also benefit from free of charge publicity in the Low Carbon Technologies Report and Low Carbon South West YouTube Channel
Low Carbon Start-up Fest is on Friday 14 May 2010 and is supported by Greenbang.com, Cambridge Wireless and the Bristol Environmental Technology & Services network. Registration and coffee from 9am Presentations from 9.30am to 12.30pm, followed by lunch and networking. Delegate places can also be booked via www.lowcarbonsouthwest.co.uk
Further information
The Low Carbon South West network has been established by the University of Bath to build an active community in this sector and establish impactful links between companies and universities. Low Carbon South West makes it easier for companies, entrepreneurs, investors and researchers to meet and exchange ideas and opportunities.
For further information contact Pinar Onions
Tel: 01225 388 639
Email: P.T.Onions[at]bath[dot]ac.uk
Distributed on behalf of University of Bath by NeonDrum (http://www.neondrum.com)
Nicky Denovan
Tel: +44 7747 017654
nicky[at]neondrum[dot]com
Featured Product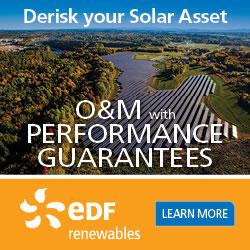 EDF Renewables offers the same innovative solutions that maximize the performance of our own 5.2 GW of installed projects. Because we're not an equipment manufacturer, our recommendations are transparent and data-driven. We cover the entire project lifecycle: from pre-commissioning support, through warranty and post warranty operation, to late stage and decommissioning.