Draker Labs, a leading provider of solar monitoring solutions for commercial-scale photovoltaic (PV) projects, announced the introduction of its new Sentalis 200PV monitoring system.
(Burlington, VT - May 3, 2010) - Draker Labs, a leading provider of solar monitoring solutions for commercial-scale photovoltaic (PV) projects, announced the introduction of its new Sentalis 200PV monitoring system. The Sentalis 200PV is a cost-effective solution for PV systems with an energy capacity of 50-250KwH. The turnkey system includes all monitoring hardware and a web interface for data management and reporting. In addition, Draker provides on-site support to assist in installing and commissioning the Sentalis 200PV monitoring system.

At the heart of each Sentalis 200PV system is a base station that collects data from environmental sensors and an energy production meter. Like the Sentalis 1000PV system, which is engineered for large commercial and utility-scale projects, the new Sentalis 200PV base station includes a highly accurate and ruggedized datalogger from Campbell Scientific, one of the most trusted names in field instrumentation. To prevent data loss in the event of a power outage, each base station includes a backup battery power supply as well as on-site, redundant data storage. The base station also includes a dedicated power supply and a simplified wiring panel to facilitate quick and safe installation.
Data are transmitted from the base station directly to Draker's secure, offsite data servers for processing. To ensure that energy production is at peak efficiency, owners and operators access performance data from the Sentalis web interface, which quickly displays a variety of historical and real-time performance metrics including 'actual' versus 'expected' energy production. When actual performance drops below predefined thresholds, the Sentalis web interface sends an email alert to maintenance personnel.
According to Draker CEO Chach Curtis, "the Sentalis 200PV was developed specifically for owners and operators of small and medium-sized commercial PV systems who require accurate, reliable and cost-effective monitoring solutions. This new product leverages advanced technology from our Sentalis 1000PV, which is fast becoming the standard for monitoring large commercial and utility-scale PV systems." Curtis added that, "with the introduction of the Sentalis 200PV, Draker is able to offer monitoring solutions tailored for each segment of the commercial PV market, from small commercial projects to large utility-scale systems".
The Sentalis 200PV is available immediately.
About DRAKER: Draker provides highly accurate and reliable monitoring solutions that help owners and operators of commercial-scale PV systems maximize the efficiency and profitability of their solar assets. As a supplier of complete, end-to-end monitoring solutions, Draker provides turnkey systems that combine proven field instrumentation with an intuitive Web-based data management system and unmatched customer support.
Contact:
Mark Sherman

802-865-3866 ext 109

mark@drakerlabs.com
22 North Street
Burlington VT 05401
Phone: 802.865.3866
Fax: 802.861.2104
Featured Product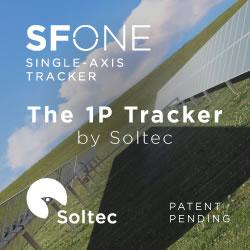 Soltec manufactures and supplies solar trackers designed and proven for extreme climate conditions, which is an ideal solution for any region's environment. Soltec's trackers are self-powered, requiring no additional PV module or grid-powered connection. Bifacial modules collect energy on both the front and rear sides, capturing reflected irradiance from the ground surface under and around the tracker and from other modules. Depending on site conditions, bifacial yield-gain can reach +30 percent.