Built upon analog and power management circuitry, National's SolarMagic wins EE Times and EDN technology awards
April 29, 2010 -- National Semiconductor Corp. (NYSE:NSM) today announced it has received two electronic industry awards for its power management-based SolarMagic™ technology.

EDN Magazine recognized National's SolarMagic technology in the Power Supplies Systems Category in its 20th annual Innovation Awards. Instituted in 1990, EDN's Innovation Awards honor the people, products and technologies that have shaped the semiconductor industry over the past year.
EE Times honored SolarMagic with an Annual Creativity in Electronics (ACE) Award, identifying SolarMagic as the most innovative technology in the Renewable Energy category. The EE Times ACE Awards celebrate the creators of technology who demonstrate leadership and innovation in the global industry and shape the world we live in. This was the sixth year of the ACE Awards.
"The 2010 winners represent the execution of forward-thinking technologies and creativity that captures the imagination of consumers, illustrating the influence that electronics and embedded design professionals have on today's culture," said Junko Yoshida, editor in chief, EE Times.
"National's deep history in the electronics industry made it natural for us to create and deliver a complete power solution directly to the Photovoltaic market, where no such solution existed before," said Ralf Muenster, director of renewable energy for National. "We are honored to receive these industry recognitions for our innovative microelectronics designed specifically for the solar market."
Based upon National's analog and power management circuits, award-winning SolarMagic is a module-level technology solution that employs advanced electronics that extract the maximum energy available from each module until a string optimum is achieved, enabling greater energy harvest. In a variety of field trials worldwide, SolarMagic was able to recoup up to 71 percent of energy that would otherwise be lost. For more information, visit www.solarmagic.com.
About EDN and EDN.com
EDN serves the vital information needs of design engineers and engineering managers worldwide. EDN.com delivers a three-dimensional view of the electronic industry via news coverage, strategic business information, and in-depth technical content. (www.edn.com). EDN is published by Reed Business Information (www.reedbusiness.com/us), the largest business-to-business publisher in the United States and a member of the Reed Elsevier Group Plc (NYSE: RUK and ENL) - a world-leading publisher and information provider.
About EE Times
EE Times Group, (http://www.eetimesgroup.com/) a division of United Business Media [LON:UBM], is the global leader in media and marketing services for the electronics industry. We deliver results for the key influencers and decision makers involved in the design, development and commercialization of technology through our market leading brands. More than 1.1 million engineering professionals engage with the EE Times Network - EE Times, TechOnline, DesignLines, and Embedded.com - across the globe. The technology community comes to our market leading events to share, learn, discuss, and advance the critical issues and challenges facing the electronics industry. As well, EE Times Group provides end-to-end services ranging from next-generation marketing, integrated media and research.
About United Business Media Limited
UBM (UBM.L) focuses on two principal activities: worldwide information distribution, targeting and monitoring; and, the development and monetisation of B2B communities and markets. UBM's businesses inform markets and serve professional commercial communities -- from doctors to game developers, from journalists to jewelry traders, from farmers to pharmacists -- with integrated events, online, print and business information products. Our 6,500 staff in more than 30 countries are organised into specialist teams that serve these communities, bringing buyers and sellers together, helping them to do business and their markets to work effectively and efficiently. For more information, go to www.ubm.com.
About National Semiconductor
National Semiconductor is a leader in analog power management technology. Its products include easy-to-use integrated circuits, PowerWise products that enable more energy-efficient systems, and SolarMagic products which improve the energy output of solar arrays. The company celebrated its 50th anniversary last May. Headquartered in Santa Clara, Calif., National reported sales of $1.46 billion for fiscal 2009. Additional information is available at www.national.com.
Featured Product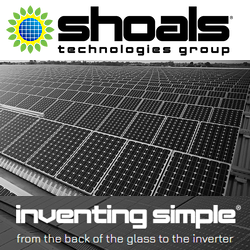 Inventing Simple® isn't just a slogan to us, it's a way of life. Using simple plug-and-play ideology, we revolutionized solar installations in 2003 with our Interconnect Systemâ"¢. Our harnessing system is now the gold standard EPC's use around the world. By using simple ideas, we are making solar energy a more affordable and clean power source for future generations.