Energy auditing is part of the growing industry of green and sustainable technologies. There are currently eight and a half million U.S. jobs in green and sustainable technologies.
Throughout the United States people are greatly concerned about two things, a lack of jobs and saving money. A new program to train energy auditors addresses both of these issues as it can create jobs and save Americans millions of dollars.

An energy auditor has the ability to perform detailed building inspections and make cost effective recommendations about improving a building's energy efficiency. In turn this can create jobs for; plumbers, electricians, carpenters, insulators, HVACR (Heating, Ventilation, Air Conditioning and Refrigeration) service technicians, and others.
Making American homes and buildings more energy efficient presents unprecedented opportunities for saving American communities millions of dollars and creating new jobs. Despite the economic and environmental benefits of improving energy efficiency, a major barrier has prevented energy auditing on a national scale. The current workforce does not contain enough experience auditors to meet the current marketplace demand.
In order to meet the current workforce demand for energy auditors the Federal government worked with industry to develop a training program designed to increase the number of energy auditors nationally.
This program utilized our nation's First Americans, the Native Americans to pilot test this program. This was the first time in two hundred and thirty four years of U.S. history that Native Americans were chosen to be the first to be trained in any area.
On November 5th, 2009, President Obama met with over four hundred leaders of federally recognized tribal leaders, congressional leaders, and members of his cabinet. This was a unique and historic event as it was the largest and most widely attended gathering of tribal leaders in the history of the United States.
The President stated I am very proud, with Secretary Salazar's leadership we've established an energy auditor training program that could prepare Native Americans for the green jobs of the future. And that's going to be absolutely important.
The energy auditor training programs was developed under a Department of Interior grant to the United Association of Journeyman and Apprentices of the United States and Canada (UA) (www.ua.org).
The UA working with their partner HVAC Excellence (www.hvacexcellence.org) developed and implemented an eight hundred contact hour energy auditor curriculum.
On January 4th, 2010 a group of students from fourteen different tribes and eight states gathered at United Tribes Technical College in Bismarck, North Dakota to begin training in the specialized green collar field of energy auditing. The United Tribes Technical College has served over ten thousand American Indian students from more than seventy five federally recognized Indian Tribes across the nation.
In a traditional college program, students attend class twelve to fifteen hours per week. This pilot program required the students to attend classes and labs forty four hours per week, six days a week for five months. In addition, they were given over twenty hours of homework assignments every week. The students were dedicated as they knew they were the first to attend a program of this kind to not just for Native Americans but for all Americans.
The commencement ceremony for United Tribes Technical College was conducted on May 9th, 2010. During this ceremony graduates from nineteen career technology programs earned their diplomas or certificates, including a group of eighteen dedicated graduates who had the title of Certified Residential Energy Auditor (CREA) conferred upon by the Green Mechanical Council (www.greenmech.org).
The commencement included several speakers from Washington D.C. including: Congressman Earl Pomeroy, Dr. Robert Middleton of the United States Department of the Interior, and other distinguished guest.
The opportunities for the first Certified Residential Energy Auditors are abundant as all of them were offered positions by the United Associations contractor employer partners. These Certified Residential Energy Auditors have the ability to perform detailed inspections and make cost effective recommendations, thus saving money for homeowners. Their recommended energy efficiency corrections will create new jobs.
Energy auditing is part of the growing industry of green and sustainable technologies. There are currently eight and a half million U.S. jobs in green and sustainable technologies. This is expected to grow to as many as forty million by 2030. Energy efficiency has never been so closely tied to economic opportunity. However the National Renewable Energy Lab has identified a shortage of skilled and trained professionals as a leading barrier to green and sustainable technology growth.
Now that the pilot testing is complete, the program is ready to be repeated across the nation and lead America towards being more energy efficient future.
Featured Product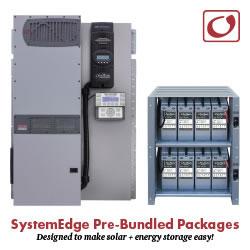 Each pre-bundled package is designed to make solar plus energy storage easy. By combining OutBack's most popular FLEXpower pre-wired systems with matched OutBack energy storage, SystemEdge takes the guesswork out of installing solar plus storage. Every SystemEdge package includes a FLEXpower factory pre-wired system, application-specific EnergyCell batteries and racking, FLEXware ICS Plus combiner and all the necessary connection hardware.