Texas Land Commissioner Jerry Patterson says federal approval of the Cape Wind project is too little, too late. He said the project would have been built by now if it had been proposed for the Texas coast.
AUSTIN ó Texas Land Commissioner Jerry Patterson today welcomed Massachusetts to the

wind power arena after the U.S. Department of the Interior finally granted partial approval to the
offshore Cape Wind project after nine years.
"This is great news for Massachusetts," Patterson said. "The race for offshore wind energy has
been churning for years since Texas signed our first lease years ago. But there's always room at
the back of the line for our northern neighbors."
For nearly a decade now, Cape Wind has been plagued by everything from powerful residents like
the late Ted Kennedy who didn't want the turbines to crowd their ocean view, to a claim of
submerged Native American artifacts.
The biggest obstacle for the Cape Wind project has been the federal government, Patterson points
out. In Texas, the Land Office is the sole grantor for any offshore wind lease up to 10.3 miles into
the Gulf of Mexico.
"The first offshore turbines will spin off the coast of Texas," Patterson said. "We will be first
because federal government involvement is negligible. Texans can do it better and quicker.
That's what we do."
In light of the massive oil spill currently in the Gulf, clean renewable energy like wind power is an
attractive option.
Right now, the Texas General Land Office currently leases almost a quarter of a million offshore
and nearshore acres for wind and geothermal development.
Regardless of any delays in actually building the wind farms, the Texas General Land Office has
already earned the schoolchildren of Texas more than $450,000 on wind leases that haven't
produced a watt of electricity.
###
Featured Product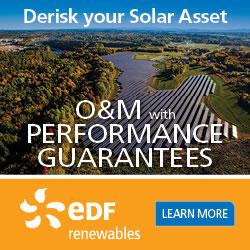 EDF Renewables offers the same innovative solutions that maximize the performance of our own 5.2 GW of installed projects. Because we're not an equipment manufacturer, our recommendations are transparent and data-driven. We cover the entire project lifecycle: from pre-commissioning support, through warranty and post warranty operation, to late stage and decommissioning.