The company developed a new low oxygen, high-temperature XYZ motion ultrasonic coating system to meet the needs of spray pyrolysis applications often used in thin film solar cell manufacturing.
Milton, NY — May 2010 — Sono-Tek Corporation, a Milton, NY-based company specializing in ultrasonic coating systems for advanced energy manufacturing, announces the development of an ultrasonic coating system to meet the needs of spray pyrolysis applications often used in thin film solar cell manufacturing.

The FlexiCoat SC features a low oxygen (less than three percent), fully sealed spray chamber with 1/2" lexan windows for safely spraying solvents at high temperatures. A high-temperature heat plate (up to 500°C) is used to heat substrates prior to ultrasonic coating, resulting in uniform pyrolyzed TCO layers, such as Indium or Zinc metal compounds onto thin film solar cell substrates.
Ultrasonic spray pyrolysis offers several advantages over other deposition methods, such as sputtering or pulsed deposition. Ultrasonic deposition is a less expensive, simpler process and is easier to scale, requiring no vacuum and less gas for processing than other coating methods. Coating results have been shown to be uniform, thin and crack-free, with high transmittance and conductive properties. Additionally, this RTP coating technique features the ability to control desired morphology characteristics.
"The advancement of research into unique precursor solutions and temperature controlled processes validates the feasibility of ultrasonic coating in the manufacture of these conductive coatings for thin film solar cells. We are excited to play a role in this cutting-edge research that will surely bring about new advanced energy products in the near future," said Steve Harshbarger, Vice President and Director of Electronics and Advanced Energy for Sono-Tek.
Some other features of the FlexiCoat SC system include an operator safety door lock function that prevents access to the chamber until a safe atmosphere temperature is reached, redundant low oxygen/temperature monitors to assure safe conditions, programmable X and Y (manual Z) motion of spray platform, and gas cooling of the chamber, ultrasonic nozzle and servo motors.
Sono-tek offers a full line of ultrasonic spray coating systems with programmable XYZ motion control and the capability to spray under various atmospheric conditions, from a fully inert (less than 1 ppm oxygen) enclosed chamber to open, conveyorized systems. Well known for superior functional coating capabilities, Sono-Tek's ultrasonic coating systems are in operation at many of the largest advanced energy manufacturers and research institutions worldwide.
For more details regarding the FlexiCoat SC ultrasonic coating system for spray pyrolysis or any other ultrasonic coating equipment from Sono-Tek, please visit www.sono-tek.com, or e-mail info@sono-tek.com.
###
About Sono-Tek Corporation
Sono-Tek is the world leader in the development and application of ultrasonic coating systems for electronics and advanced energy applications. Compared to conventional pressure spraying methods, the company's ultrasonic nozzles do not clog, reduce liquid usage, waste, and environmental impact while achieving much more precise, uniform, thin film coatings. Sono-Tek is continually developing new applications for its unique technology, replacing wasteful practices in a world that is growing ever more environmentally sensitive. For more information, visit the company's website at www.sono-tek.com.
Featured Product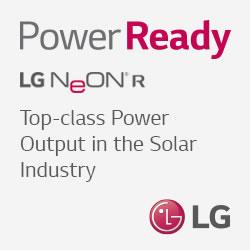 The NeON R module features "Back Contact" cell technology delivering an entirely black panel that is aesthetically pleasing and energy efficient. The cell's seamless, surface blends perfectly into nearly all rooftop designs while the module's electrodes are positioned on the rear of the cell. Using LG's N-type cell structure, the panels produce 365W of energy, up to 7.3kWp, compared to 5.8kWp of the p-type cell. The module's new design minimizes LID, thereby delivering a longer lifespan and increased energy output.