Deutsche Bank, and National Wind, LLC announce the successful closing of a senior secured financing facility for National Wind. Deutsche Bank is also expected to help finance National Wind's 13 project development portfolio. The financing facility will help National Wind grow its business and expand its community wind model across the country.
NEW YORK-MINNEAPOLIS, May 20th, 2010: Deutsche Bank, and National Wind, LLC are pleased to announce the successful closing of a senior secured financing facility for National Wind. It is also expected that Deutsche Bank will help finance National Wind's growing wind project portfolio, consisting of 13 projects, representing over 4,000 megawatts in active development. Headquartered in Minneapolis, National Wind is the largest developer of utility scale community-based wind energy projects in the US.

"Within the renewable energy sector, Deutsche Bank is one of the world's largest and most sophisticated financial institutions," says Leon Steinberg, CEO of National Wind. "We are very pleased with the commitment they have made to our company. We look forward to enhancing our operations whilst continuing to grow our business, adding more projects along with furthering our current developments. This financing will help position National Wind's community-based model more broadly across the country."
"The renewable energy sector presents a key opportunity for Deutsche Bank, particularly in the Americas," says Robert Martorano, Managing Director of the Deutsche Bank's Asset Finance & Leasing Group. "National Wind's community business model is uniquely positioned in the wind industry and this transaction underscores Deutsche Bank's continuing commitment to renewable energy development."
About National Wind:
National Wind is the leader in developing utility-scale community wind energy projects. We form powerful partnerships with local property owners, assuring that the project's economic benefits are shared with the community. National Wind has participated in developing 13 wind energy projects and currently has over 4,000 megawatts (MW) in active development. National Wind projects are located in Minnesota, Iowa, North Dakota, South Dakota, Montana, Colorado, Texas and Ohio. The company is exploring expansion opportunities in other states. Please visit www.nationalwind.com for more information.
About Deutsche Bank:
Deutsche Bank is a leading global investment bank with a strong and profitable private client franchise. A leader in Germany and Europe, the bank is continuously growing in North America, Asia and key emerging markets. With 80,849 employees in 72 countries, Deutsche Bank competes to be the leading global provider of financial solutions for demanding clients creating exceptional value for its shareholders and people.
Featured Product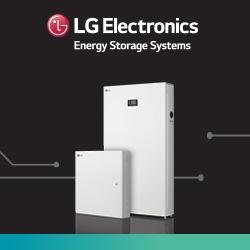 LG Solar is transforming today's solar landscape, offering precision-manufactured and high-efficiency solar panels for homeowners who demand high performance, reliability and consistently strong energy yield from a brand they can trust. LG modules feature outstanding durability, appealing aesthetics and high-efficiency technology, backed by a limited 25-year product, performance and labor (up to $450) warranty. Homeowners who purchase LG Solar modules know they're protected by a diversified global brand.