Earning 63 Points, Holy Wisdom Monastery receives designation as the highest-rated LEED Platinum building ever.
Already credited with leading the certification effort of three of St. Louis' LEED Platinum buildings, Vertegy today announced that it has now added the United States' highest-ranked LEED Platinum facility to its award-winning portfolio. The Benedictine Women of Madison's Holy Wisdom Monastery, located in Madison, Wis., earned 63 out of a possible 69 points under the U.S. Green Building Council's (USGBC) LEED for New Construction Version 2.2 Rating System, the highest rating awarded by USGBC in the history of the LEED-NC program. With the addition of Holy Wisdom Monastery, Wisconsin is now home to two of the three highest-rated Platinum buildings in USGBC's LEED portfolio (the Aldo Leopold Legacy Center at 61 points is located in Baraboo). The third is the Alberici Headquarters building (60 points) located in St. Louis, Mo. Also based in St. Louis, sustainability consultant Vertegy now has had the privilege to work on two of the three highest ranked LEED Platinum buildings in the country.

The Benedictine Women of Madison, whose mission is to weave prayer, hospitality, justice, and care for the earth into a shared way of life as an ecumenical Benedictine community, work toward environmental solutions and teach the importance of nature in daily life. So, it was only natural that the Sisters called upon the Wisconsin-based planning, design, and construction management firm Hoffman, LLC and sustainability consultant Vertegy to help them strive beyond conventional building practices when they realized that their existing conference center, Benedict House, needed to be responsibly decommissioned and replaced. After careful study, the decision was made to replace Benedict House with a smaller building, built to the highest level of LEED certification, and designed to ultimately achieve a "zero carbon footprint" through future renewable upgrades.
The Sisters turned to a Total Project Management firm with experience with women's religious communities and sustainability, Hoffman, LLC, to head the design and construction management. A recognized leader in the sustainability arena, Vertegy provided additional support throughout the LEED process. Other local design team members were Fredericksen Engineering as the mechanical engineer, Czarnecki Engineering for electrical design and LGD Engineering for plumbing. The 34,380 square foot, two-level building contains spaces for worship, retreats, concerts, conferences, lectures, interfaith dialog, dining, reading and administration.
Specific features of the building that helped garner the coveted Platinum certification include:
• Open areas for 70% of the project's site area restored to native prairie habitat.
• A white membrane roof, high albedo paving surfaces and permeable concrete, all of which help decrease the heat island effect.
• Preferred parking for low-emitting and fuel-efficient vehicles.
• No permanent irrigation system, one gallon per flush toilets, waterless urinals and low-flow lavatory and kitchen faucets.
• A geothermal heating and cooling system that uses 39 closed-loop wells, each 300 feet deep.
• An accessible green roof on a portion of the building over the garage.
• Photovoltaic cells on the monastery roof which generates 13% of the building's energy needs. The goal is to eventually provide 100% of the monastery's energy needs, on a net basis, from on-site, renewable sources.
• Over 99% of the construction and demolition waste diverted from the landfill.
• The floors of the main gathering spaces are made of bamboo, a rapidly renewable material, and nearly 30% of the building materials were produced regionally, within a 500-mile radius.
• An outdoor air delivery monitoring system incorporated into the building's ventilation equipment and validation of the indoor air quality through stringent testing prior to occupancy.
• Highly sustainable windows that contain specially customized glass, depending on their location in the building, and eliminate the need for window blinds. Large windows throughout the building provide views and natural lighting to interior spaces.
"The Benedictine Women of Madison's desire to further their mission and inspire others quickly sharpened the project team's focus," said Thomas Taylor, general manager of Vertegy. "Everyone worked together to find innovative ways to employ strategies that enhanced the monastery's sustainability," said Taylor.
Holy Wisdom Monastery is the 23rd LEED certified facility in Vertegy's portfolio and the fourth LEED Platinum building that Vertegy has had a hand in. The firm also consulted on the William A. Kerr Family Foundation, the Alberici Headquarters Building and Crossroads College Preparatory School.
Founded in February 2005, Vertegy provides clients with design, procurement and construction consulting services for green and sustainable facilities. One of the key ways Vertegy serves clients is by helping them gain certification for their projects from various nationally and internationally recognized certification bodies, such as the U.S. Green Building Council (USGBC), which provides LEED (Leadership in Energy & Environmental Design) certification. Vertegy — which is derived from combining the Latin root for green and strategy — is based in St. Louis at the LEED Platinum Alberici Corporate Headquarters. For more information, call 314.733.2666 or visit www.vertegyconsultants.com.
Featured Product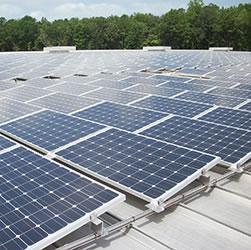 The Power Rail™ Commercial Mounting System is designed with the professional PV solar installer in mind. Both the XD/UD and LD/MD rails feature single tool assembly with the revolutionary patented RAD™ Lock-in-Place bolt for fast and secure module clamping. The high strength marine-grade aluminum rails include an integral wiring channel for securing cables and providing a professional finish.