New Hopedale Medical Complex will serve as a model to others facilities around the nation
Expanding its portfolio in the healthcare arena, St. Louis-based Vertegy today announced that it has been tapped to lend its award-winning sustainable design and consulting services to the construction of an addition to the Hopedale Medical Complex in Illinois. The project is expected to earn LEED Silver certification upon completion.

Vertegy was contracted by Space Architects to assist with the sustainable design of a new 40,000-square-foot, one-story addition to Hopedale Medical Complex, a second generation, family-owned and operated facility located in a rural community about 45 minutes outside of Peoria. Alberici Constructors, Inc., Vertegy's parent company, will act as the construction manager for the project. The hospital, which hopes to achieve greater recognition as a care center with the renovation, serves as a national model for independent rural health care delivery. The project will add private and semi-private patient rooms, ICU care rooms and imaging equipment to the existing facility. Visitors and patients will be greeted by a new main entrance, and emergency patients will enter the building through a new entrance as well. Vertegy will manage all LEED-related activities, including the facilitation of design integration, energy modeling and the U.S. Green Building Council's LEED documentation and certification process. Green aspects will include landscaped water features to aid in stormwater management; therapy gardens, adding to the site's green open space; low-emitting construction materials for improved indoor air quality, and 30 percent water use reduction through the selection of high-efficiency fixtures.
The sustainable design of the Hopedale Medical Complex also seeks to create a healthier and more sustainable lifestyle within the small community of Hopedale. The addition to the hospital will feature a farmer's market that will take shape right outside the main entrance and a community garden designed to promote healthy eating, both for those in the hospital's assisted living facility and the surrounding community. New streets will be added to better reconnect to the downtown area and help encourage new business within the region. Moreover, the facility will include new community spaces available for public use including:
• Walking trails through the property's sustainable landscape and prairie grasses around the new pond
• A chapel and meditation garden
• A community room/ classroom for education
-more-
Vertegy Tapped for Design of Medical Facility
First and Final Add
• Open space for special events
• A new café, coffee and gift shop
• A 26-foot high observation deck where visitors can find a weather station, view the rolling prairie and observe more than 100 Ameren wind turbines that scatter the surrounding landscape
"More and more hospitals are becoming aware of all the benefits associated with sustainable design, and as a result, we have seen an increase in the demand for LEED services from their owners and operators," said Thomas Taylor, general manager of Vertegy. "The Hopedale Medical Complex will not only provide a healthier environment for staff and patients but will also serve as a model for other facilities around the nation."
Elizabeth Kohl, project manager of Space Architects, notes the inspiration for the design was a quote from Reader's Digest's April 1966 issue - "Hopedale floats on the swells of the Illinois prairie like a raft on the Pacific."
"There's an iconic wall that makes its way through the building like a wave taking on the color and feel of the prairie giving a unique sense of place," notes Kohl. "Unlike patient rooms in towered buildings found in our cities, all of Hopedale's patient rooms have huge windows with a spectacular view of the prairie grasses, pond, corn fields and wind turbines. It's designed to encourage healing in a whole new way."
Founded in February 2005, Vertegy provides clients with design, procurement and construction consulting services for green and sustainable facilities. One of the key ways Vertegy serves clients is by helping them gain certification for their projects from various nationally and internationally recognized certification bodies, such as the U.S. Green Building Council (USGBC), which provides LEED (Leadership in Energy & Environmental Design) certification. Vertegy — which is derived from combining the Latin root for green and strategy — is based in St. Louis at the LEED Platinum Alberici Headquarters. For more information, call 314.733.2666 or visit www.vertegyconsultants.com.
SPACE, llc was formed in March 2005 and has quickly grown to a firm of 14 people with diversified project experience including hospitality, education, health care and corporate offices. SPACE has been strategically shaped by hiring proven leaders from other area design firms, chosen for their experience, imagination and leadership skills. SPACE has achieved a high degree of success, winning American Institute of Architect design awards for the past three years in 2007, 2008, and 2009 as well as several awards in publications such as At Home-St. Louis Magazine and Remodeling Magazine, and another award given by the International Interior Design Association in 2009. Practicing the sustainability they preach SPACE has recently moved to a new office at 4168 Manchester in St. Louis that uses alternative energy sources including geothermal heat wells, solar thermal arrays on the roof, a radiant floor and a chilled plate cooling system.
Featured Product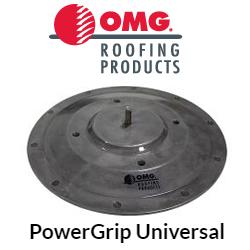 Eliminate Solar Rack Ballast and Reduce Rooftop Material Handling. PowerGripâ"¢ Universal (PGU) is a commercial roof mount system designed to secure solar racks and other equipment to any type of commercial roofing system. PGU provides a secure connection directly to the roof deck or structural members and is designed to reduce or eliminate ballast in solar racking systems, so there's less weight on the roof and less material handling. Made of heavy-duty cast aluminum, PGU units include a base ring which is secured through the roofing cover and into the structural roof deck, and a waterproof top plate.