Bonfiglioli USA, the only company in the wind power industry that produces a fully-integrated system, will exhibit its wind energy solutions at booth #11830.
HEBRON, Ky. - Bonfiglioli USA, a worldwide leader in the design and manufacture of motors, planetary gearboxes and inverters, will exhibit its wind energy solutions at WINDPOWER® 2010 Conference and Exhibition. Bonfiglioli, the only company in the industry that produces a fully-integrated system, provides its solutions to some of the largest companies worldwide and has its gearbox if one-third of the world's windmills.

"Our ability to provide a high-quality, fully integrated system that controls all components within the turbine is what sets us apart from the rest," said Greg Schulte, President and CEO of Bonfiglioli USA. "We've mastered each component - the inverter, the gearbox, the motor - and that allows us to go to market with a quality system that is reliable, efficient and maximizes energy production."
Bonfiglioli USA is part of the Bonfiglioli Group, which for more than 50 years has been a worldwide leader in power transmission. Thirty years ago, the company saw an opportunity in utilizing its gearboxes for wind energy, and the result was a complete solution to increase the performance of wind turbines. Its yaw and pitch drive systems control energy generation, from rotor blades positioning to nacelle orientation. The company's products are also able to harness power from direct current (DC) to alternating current (AC).
During the WINDPOWER Conference, Bonfiglioli USA will display its full range products for wind business: gearboxes, motors, inverters, specifically:
• Bonfiglioli VER/S regenerative active front end (AFE)
• 700T Series yaw and pitch drive for wind turbines
• ACTIVE solution control drive for wind turbines
In addition, the company will discuss issues facing the wind and renewable energy industry such as the reliability of delivering energy to the electrical grid, pending federal regulatory issues, and how to maximize potential wind energy.
According to Schulte, Bonfiglioli benefits customers by:
• simplified and improved performance,
• high efficiency,
• durability,
• and reduced downtime.
WINDPOWER® 2010 Conference and Exhibition will be held in Dallas May 24 through 26. Bonfiglioli USA will be located in booth #11830. To schedule a time to meet with Schulte during the event, please contact Lauren Doyle via e-mail at ldoyle@wordsworthweb.com or by calling (513) 271-7222 ext. 17 (office) or (937) 241-8378 (cell).
For more information about Bonfiglioli and Bonfiglioli USA, visit www.bonfiglioliusa.com.
###
About Bonfiglioli
Bonfiglioli is one of the world's leading designers and manufacturers of gear motors, drive systems and planetary gearboxes, and a developer of systems which integrate electronic, hydraulic and mechanical engineering. The company was founded in 1956 in Bologna and today is Italy's largest gear manufacturer. It has production plants and branches in 17 countries, a global workforce of nearly 3,000 and annual sales in excess of $1 billion. Bonfiglioli provides solutions and choices of excellence for industrial systems and mobile machinery, as well as innovative renewable energy applications in the wind turbine, solar panel and bio fuel sectors.
Featured Product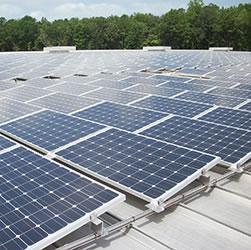 The Power Rail™ Commercial Mounting System is designed with the professional PV solar installer in mind. Both the XD/UD and LD/MD rails feature single tool assembly with the revolutionary patented RAD™ Lock-in-Place bolt for fast and secure module clamping. The high strength marine-grade aluminum rails include an integral wiring channel for securing cables and providing a professional finish.