The second annual SolarDay is a day of recognition for clean, solar energy. More information at: www.solarday.com. Do we need a better reminder of our need for clean energy than that massive BP "spill" in the Gulf?
John Reed, Media Relations

Elevator Communications, LLC
Mill Valley, CA
(415) 846-4862
jreed@elevatorpr.com
News Notes:
Interview: Addison Huegel, Executive Director of SolarDay is available for a phone interview to talk about SolarDay 2010 and the growth of this annual day of recognition of clean energy.
Photos: A photo of Addison Huegel can be emailed to you along with the SolarDay 2010, logo.
Website: www.solarday.com
Thank you.
John
The National Clean Energy Day
SolarDay 2010 - Saturday, June 19
www.solarday.com
June 3 (San Francisco, CA) - - Given the public outrage over the largest oil spill in U.S. history, maybe it's time to look at some clean energy alternatives.
This year's annual day of recognition for the growth of clean, solar energy in the U.S. is SolarDay 2010 - Saturday, June 19. The premise of SolarDay is simple: a national day of recognition for solar energy, energy independence and protection of the planet.
SolarDay continues to grow along with the U.S. solar industry.
The first annual SolarDay was held in 2009 with exactly one event - a tour hosted by the city of San Francisco using bio-diesel buses of solar hot water heating systems in the city.
According to the Solar Energy Industries Association (SEIA), in 2009 the solar industry added 441 megawatts of new, clean power to the U.S., pulled in 1.4 billion in new venture capital investments, provided 45,000 jobs and grew by 36% in annual revenue.
This year SolarDay 2010 events will be held in more than 40 cities so residents can find out about their energy options, solar rebates and ways to reduce the cost of their electricity bills for years to come.
By the end of 2010, SEIA estimates the U.S. solar industry will surpass 60,000 jobs. Extending existing programs, including the Treasury Grant Program will add 200,000 new domestic jobs to the solar workforce and result in 10 gigawatts (GW) of new solar installations by 2016 - enough to power 2 million homes.
Higher Electricity Costs and Reducing Our Need for Fossil Fuels
The cost of electricity continues to rise every year.
Addison Huegel, Executive Director of SolarDay recently stated "As if the cost of electricity was not a good enough reason to adopt solar energy using the available rebates, there is the disastrous oil spill in the Gulf that reminds us yet again about our reliance on fossil fuels and the fragility of our ecosystem.
"More and more people are adopting greener lifestyles for both ethical and economic reasons. Solar is a major component to green lifestyles. Let's not forget that 50% of the electric energy produced in the U.S. is from burning coal. In China, 83% of the electricity is generated by burning coal.
Federal and State Solar Rebates
"Government support of solar on the state and Federal level has made solar affordable. People with solar installations for their homes and businesses can significantly reduce their monthly energy bills. And, there are many incentive and rebate programs that can reduce the cost of a solar installation by nearly half. Plus, new programs allow you to pay off your solar installation through your property taxes and other methods. Some solar companies will install a solar installation at no cost - and simply charge you for the electricity you consume - at a guaranteed rate with no surprises."
SolarDay 2010 is Nationwide
The public is encouraged to learn more about their energy options, lowering their electricity bills, rebates and solar energy and SolarDay, Saturday, June 19 - SolarDay 2010. More information is available at: www.solarday.com
# # #
Featured Product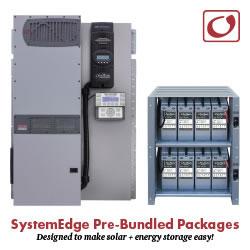 Each pre-bundled package is designed to make solar plus energy storage easy. By combining OutBack's most popular FLEXpower pre-wired systems with matched OutBack energy storage, SystemEdge takes the guesswork out of installing solar plus storage. Every SystemEdge package includes a FLEXpower factory pre-wired system, application-specific EnergyCell batteries and racking, FLEXware ICS Plus combiner and all the necessary connection hardware.