Experts to gather in Seville on November 18-19 to discuss how to lower costs, establish the track record and secure financing.
SEVILLE, SPAIN (PRWEB) June 28, 2010- With more than 20 MW installed to date, CPV's commercialisation is firmly underway. It has been predicted that the CPV market will soar in value to over a quarter of a billion dollars by 2014 leading to exponential growth of 6GW by 2020.

To address the critical issues that the industry will face on the way to commercialisation, CPV Today will be bringing together over 300 industry players in Seville on November 18-19 at the 3rd Concentrated Photovoltaics Summit EU.
Leading experts including Guascor Foton, Masdar, ASIF, ENEL, University of Jaen, EU Commission, ERSE, LPI, PV Group- Semi, Citi, Good Energies, Semprius, Bsq Solar and others are already confirmed to speak about crucial industry challenges such as securing finance, reducing costs and establishing a solid track record in order to compete with other solar technologies.
As its advantages and capabilities are starting to be widely acknowledged, CPV continues to install more megawatts and secure additional projects. Guascor Foton, the leader in CPV's installed MW will discuss the technology's competitiveness for large scale-projects. Other important initiatives that will establish the track record and technology transference milestones such as Masdar-ISFOC in Abu Dhabi and the Apollon project in Italy, will be explored at the summit.
The 3rd CPV Summit EU will follow the 4th CSP Summit in Seville and leading solar developers attending the event are being personally invited to the 3rd CPV Summit to meet with the industry.
Maria Slough, Director at CPV Today recently said "This event is of utmost importance for the CPV community as the industry reaches commercialisation. CPV has a tremendous potential of lowering costs and improving efficiency, turning it into one of the most feasible solar technologies. This is the time to become a main competitor within the PV sector; hence, it is essential for all stakeholders who are serious about scaling up their CPV business to be in Seville this November".
You can find more details about the 3rd Concentrated Photovoltaics Summit EU at www.cpvtoday.com/eu
Contact information:
Maria Slough Rocha
CPV Today
+44 (0) 207 375 7187
maria@cpvtoday.com
Featured Product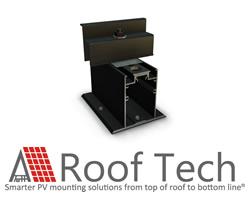 The most compact versatile rail-less PV mounting system under the sun. Instead of placing solar panels on top of long rails, simply attach E Mount AIR to rafters or the roof decking. Once panels are fastened to the roof, the system array is electrically bonded. The result is a visually seamless PV installation that stands the test of time. - Truly "One With The Roof". - PE stamped cert. letters available, UL 2703 Classified, ASTM 2140 fully waterproof. The one and only with integrated flexible flashing certified by the ICC! All the best quality. Only from Roof Tech