Japanese and Chinese Markets at the Forefront in the Region This Year
SAN FRANCISCO, CALIF., July 7, 2010—Asia Pacific photovoltaic markets are poised to make a significant contribution to global photovoltaic (PV) market growth in 2010 following improvements in the policy environment in most of the key countries in this region.

According to the Solarbuzz® Asia and Pacific Major PV Markets 2010 report, the key emerging country markets of China, India, South Korea and Australia, together with the long established Japanese market, contributed 0.9 GW of installations in 2009, or 12% of world demand. After a policy-led reduction in demand in South Korea last year, all five of these country markets are now expected to return to growth in 2010. According to data in the new Asia and Pacific Major PV Markets 2010 report, demand across the three countries will be up 85% this year in the mid-case Green World scenario.
"Japan is set for very strong growth in 2010 with clearly set out new incentives for photovoltaics," said Craig Stevens, President of Solarbuzz. "The expectations for China and India remain high. However, their challenge will be to translate their long pipeline of projects, now just on paper, into reality through government incentive policies that are certain and at a level high enough to attract financing."
PV Growth in Japan Stimulated by New Government Initiatives
For the first time in three years, the Japanese market showed a significant increase in 2009. The domestic market more than doubled in 2009 to 477 MW as a result of the re-launch of a nationwide residential incentive program and the introduction of a Japanese version of a Feed-In Tariff (FIT) during the year. The FIT was originally planned to launch from April 2010, but to further accelerate the deployment of the domestic PV market, the government pushed it forward and started the program in November 2009. In addition, as of December 2009, over 400 regional governments (prefecture, city, town or village) offered residential PV support programs, including subsidies and loans as well as utility buy-back schemes and further assistance through utility Green Power Funds.
China Achieves 228 MW in 2009, 552%Y/Y Growth
With the help of Solar Rooftops and Golden Sun programs in mid-2009, the PV market in China experienced strong growth, achieving 228 MW in 2009, an impressive 552% Y/Y growth. The growth was driven by the emergence of a significant on-grid segment, building-mounted and ground-mounted systems supported by specific government programs, with the largest provincial markets being Ningxia and Jiangsu. Specifically, on-grid building-mounted segments rose from a 33% market share in 2008 to 88% in 2009. As of June 2010, a total of 95 listed projects that are under development with National Energy Administration approval totaled 18.6 GW with more tender bids pending.
India' Off-grid Rural Segment the Largest PV Market Segment in India
The India PV market grew 22% Y/Y, reaching 44 MW in 2009. Despite this, the growth was lower than expected, with incentive programs lacking success. The Ministry of New and Renewable Energy (MNRE) released its National Solar Mission, outlining planned growth of the PV market to 20-22 GW by 2022. While the global financial crisis had a moderate affect upon government funds allocation, national elections during 2010 slowed several government bureaus to a halt, delaying procurement and distribution activities until later in the year. Nonetheless, the project pipeline stands at 4.9 GW at June 2010.
South Korea Market Drops Dramatically in 2009
South Korea's PV market decreased in size by 65% falling from 276 MW in 2008 to just 98 MW in 2009. With over half of the aggregate 500 MW program cap reserved in just the first few months of launch for a program initially designed to ramp up steadily through 2011, the Ministry of Knowledge Economy (MKE) was forced to establish an annual installation cap. This caused the collapse in installations. Additionally, in September 2009 the FIT rates were adjusted downward for the 2010-2011 period to reflect falling module prices and encourage greater numbers of smaller, building-mounted systems.
Australia PV Growth Driven By Residential Market
Consumer demand in the residential sector drove Australia's PV market in 2009, growing 222% Y/Y to 74 MW. Specifically 80% of all capacity installed was for on-grid residential use. As the majority of Australia's electricity is produced with cheap coal, PV market growth in recent years was steady, rather than explosive. The Australia government revised its Solar Flagships program—aiming to commission 150 MW of PV power by 2015. In addition, every region has, or will have, a PV-specific FIT or net-metering policy in 2010.
Solarbuzz Asia Pacific Major PV Markets Report Now Available
The Solarbuzz Asia Pacific Major PV Markets report provides detailed insight into the major Asia Pacific countries active in the PV market, with analysis on Japan, China, India, South Korea and Australia including market segmentation, government policies, downstream acquisitions, project-by-project listings, investment economics, downstream market pricing and market forecasts. The report also examines data analysis and commercial insight into country specific PV market segments, making this report is critical for sales and marketing decision making for PV companies, equipment manufacturers, materials suppliers and PV systems integrators.
The 2010 Solarbuzz regional reports (Asia Pacific Major PV Markets, European PV Markets and United States Grid Connect PV Market) are now available—bringing clarity to this complex sales and market environment. Featuring more than 300 pages for each region, they focus on the key downstream sales and marketing agenda—helping to resolve the market challenges and identify the future sales opportunities. Report content addresses market segmentation, detailed review of PV incentive policies, PV project listings by segment (government, corporate and utility customers), downstream channel structure and volumes, financiers and PPA providers and terms, regional economics, downstream company activity and installed PV system pricing—concluding with a focus on the future via five-year market forecasts together with identification of short-term project-by-project order books.
To order Solarbuzz regional reports, contact us at our nine global locations, email us at admin at solarbuzz dotcom, or call 1.415.928.9743.
Report Content Outlines:
§ Asia and Pacific Major PV Markets 2010
§ Europe PV Markets 2010
§ United States PV Market 2010
About Solarbuzz
Solarbuzz, part of The NPD Group, is a globally recognized market research-based business focused on the solar energy and photovoltaic industries since 2001. Solarbuzz clients include many of the largest global PV manufacturers, together with major investment banks, equipment manufacturers, materials suppliers, hedge fund companies, a wide range of other multi-nationals considering participation in this industry, and the largest PV system integrators. Solarbuzz offers a wide-array of reports, including Marketbuzz®, an annual global PV industry report, and Solarbuzz QUARTERLY, which provides historical and forecast data on the global PV supply chain. The company's research also provides annual Downstream PV Market Reports by region for the European, Asia Pacific and US markets. In addition, Solarbuzz.com is a recognized and respected online resource for the solar industry. For more information, visit www.solarbuzz.com
About The NPD Group, Inc.
The NPD Group is the leading provider of reliable and comprehensive consumer and retail information for a wide range of industries. Today, more than 1,800 manufacturers, retailers, and service companies rely on NPD to help them drive critical business decisions at the global, national, and local market levels. NPD helps our clients to identify new business opportunities and guide product development, marketing, sales, merchandising, and other functions. Information is available for the following industry sectors: automotive, beauty, commercial technology, consumer technology, entertainment, fashion, food and beverage, foodservice, home, office supplies, software, sports, toys, and wireless. For more information, contact us or visit www.npd.com and www.npdgroupblog.com. Follow us on Twitter at @npdtech and @npdgroup.
Solarbuzz and Marketbuzz are registered trademarks of The NPD Group.
Featured Product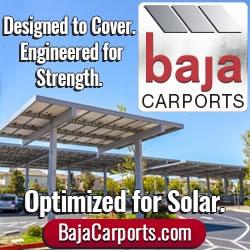 Baja Carports offers an extensive solar support system product line customized to customers' site specifications by in-house engineers, meeting their parking lot coverage, plus optimal PV production needs. Baja's Full Cantilever Tee is often paired with its Semi and Full Cantilever carports to meet live/loads up to 60psf and wind speeds to 160mph. All Baja products are pre-fabricated, bolted connections, pre-galvanized structural steel for fast on-site installation and project aesthetic requirements."