The public can learn about solar, wind, and other ways to make and save energy at SolWest Fair July 23-25 in John Day, Oregon.
The public can learn about solar, wind, and other ways to make and save energy at SolWest Fair July 23-25 in John Day, Oregon. Exhibitors bring hands-on and interactive displays to demonstrate working solar hot water, solar electric and wind power systems. There will be over 50 classes available during the three-day weekend for young, old, technically-knowledgeable and renewable newbies. Workshops will cover the hardware, skills, and philosophy of sustainable living, including "Wind Site Assessment," "Retrofitting Your Existing home for Passive Solar," solar electric, solar cooking, solar hot water, how to convert a vehicle to electric, and natural building. All regular SolWest workshops are free with fair entry.

SolWest keynote speaker Dave Wann writes about the creation of a joyfully moderate way of life that uses fewer resources and yields greater satisfaction. His most recent book, "Simple Prosperity: Finding Real Wealth in a Sustainable Lifestyle," is a sequel to the best-selling book he co-authored, "Affluenza: The All-Consuming Epidemic," which is now in 9 languages. He has also produced 20 videos and TV programs, including the award-winning TV documentary "Designing a Great Neighborhood." A passionate gardener, Dave lives in a cohousing community in Golden, Colorado. He is the president of the Sustainable Futures Society, and a Fellow of the National Simplicity Forum. Dave says: "We are already inventing a new way of life that is twice as satisfying yet uses only half the resources we currently use, such as water and energy. We can create a bright new way of thinking, a brilliant new way of being that historians may one day call the Second Renaissance."
Saturday is always family day at SolWest, with interesting and fun activities for children of all ages. For more details, browse to www.solwest.org, call 541-575-3633 or email info@solwest.org.
Featured Product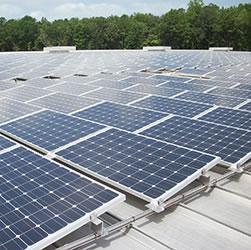 The Power Rail™ Commercial Mounting System is designed with the professional PV solar installer in mind. Both the XD/UD and LD/MD rails feature single tool assembly with the revolutionary patented RAD™ Lock-in-Place bolt for fast and secure module clamping. The high strength marine-grade aluminum rails include an integral wiring channel for securing cables and providing a professional finish.