Rabobank and SolarCity announced collaboration that includes financing for projects across SolarCity's service area and the installation of six new solar power systems at Rabobank N.A. branches throughout California.
NEW YORK CITY and FOSTER CITY, Calif., July 13, 2010 - Rabobank and SolarCity today announced collaboration on a range of new solar projects. Rabobank is providing project financing for numerous solar projects across SolarCity's service areas. Separately, Rabobank, N.A., the community bank, also announced that SolarCity will complete the installation of six new solar power systems on branch locations throughout California.

"We're very pleased that this transaction marks our first solar energy project financing in the U.S. market and is the ninth transaction since we launched our renewable energy business in the Americas less than one year ago," said Ron Klein, managing director with Rabobank's Renewable Energy and Infrastructure Finance (REIF) group in New York. "In the solar space, this is an ideal fit for our portfolio as we continue to look for opportunities in aggregated distributed generation as well as utility scale solar."
In July of last year, Rabobank expanded its successful European REIF business to the Americas, focusing on large-scale renewable energy project financing in the wind, bio-mass and solar arenas. Already, Rabobank has become one of the most active players in the U.S. renewable energy project finance field.
"As a solar company, it is great to see an AAA-rated bank getting into the solar financing business," said Lyndon Rive, chief executive officer of SolarCity. "Rabobank is also adopting its own clean power through its California retail banking arm by signing on with SolarCity to host electric vehicle (EV) charging stations and install solar panels on multiple branch locations."
SolarCity is installing new solar systems at Rabobank branch locations in Atascadero, Castroville, El Centro, Paso Robles, Pismo Beach and Salinas. The new installations cumulatively total 200 kilowatts of new solar capacity and are expected to offset an estimated 50 percent of Rabobank's energy use at the six locations. In regard to renewables, Rabobank, N.A. is oriented toward financing solar systems for its commercial clients through its renewable finance team in California.
Several of the solar installations on Rabobank's California branches are already underway. In 2009, Rabobank and SolarCity collaborated on a series of electric vehicle charging stations co-located at Rabobank branches along highway 101 to connect San Francisco and Los Angeles. The six new solar installations are intended to complete the solar component of the corridor, providing clean, renewable power at or near each EV charging station to offset the electricity needed to charge the vehicles.
"We are committed to supporting solar energy in California, whether on our own branch buildings or with our customers," said Marco Krapels, executive vice president of Rabobank, N.A. and co-chair of Rabobank, N.A.'s Corporate Social Responsibility committee. "Solar energy financing is a part of our effort to promote sustainability and to expand renewable energy financing in our banking business, and in our customer relationships."
About Rabobank International
Rabobank is a global financial services leader providing institutional and retail banking as well as financial solutions for the agricultural and renewable energy sectors in key markets around the world. From its century-old roots in the Netherlands, Rabobank has grown into one of the largest banks worldwide, with more than $850 billion in total assets and operations across 40 countries. Rabobank is the only private bank in the world with a triple A credit rating from both Standard & Poor's and Moody's, and is ranked among the world's safest banks by Global Finance magazine.
About Rabobank, N.A.
Rabobank, N.A., (www.rabobankamerica.com) is a California community bank that provides personalized service and a full array of quality products to individuals, businesses and agricultural clients. With 95 retail branches and 15 financial service centers, we serve the needs of communities from Napa Valley to the Imperial Valley through local decision making and active community involvement by our employees. Rabobank, N.A., is part of the Rabobank Group, one of the world's largest and safest banks.
About SolarCity
SolarCity—a national leader in solar power system design, financing, installation, monitoring and related services—was founded with the mission to help millions of homeowners and businesses adopt solar power, protect themselves from rising electricity costs and protect their environment from polluting power sources. The company's SolarLease®, PurePower™ and Commercial Power Purchase Agreement (PPA) options can make it possible for homeowners and businesses to switch to clean, solar power for less money than they currently pay for electricity. SolarCity currently serves more than 1,000 communities in Arizona, California, Colorado, Oregon and Texas. Additional information about the company is available on the Web at www.solarcity.com.
Media Contacts:
Jonathan Bass
SolarCity
650-963-5156
jbass@solarcity.com
Andy Frokjer
Rabobank, N.A.
805-473-6885
andy.frokjer@rabobank.com
Heather McElrath
Rabobank International
212-509-3181
heather.mcelrath@rabobank.com
Featured Product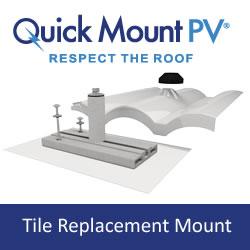 The Tile Replacement Mount provides a fast and easy way to install solar on tile roofs while protecting against water intrusion. Simply remove the tile and replace it with the Tile Replacement Mount. Works with all standard curved and flat tile roofs, and all standard rail-based racking systems. Flashed at both the deck and top levels, the mount is fully engineered to meet code requirements and industry best practices. The Tile Replacement Mount features Quick Mount PV's patented Elevated Water Seal technology for optimal waterproofing. Get a free sample and see for yourself!