Using the UK as an example which would be much the same across Europe, much less in the USA, the current focus towards greater energy efficiency is to change your gas/oil boiler to a condensing boiler. Now at last the UK government is moving towards a greater use of solar thermal hot water heating.
Having used my own home for the past ten years to demonstrate the greater use of solar hot water heating to support my home heating needs in the south of England during our 6 months of winter. What I found to be missing was an efficient way to transfer the solar heated water of 60-70c from my 250 litre thermal store into what is now an outdated radiant steel panel radiator system.

Changing just the gas boiler for the latest condensing AA rated to reduce energy costs while retaining the low cost steel panel rusting radiator full of water along with the connecting uninsulated copper pipes. Most UK homes of 3 beds will have a radiator system with over 100 litres in the circuit.
This new proven aluminum/copper super heat pipe radiator now in production, will reduce that 100 litres + of water in the current central heating system to 15 litres (less than 1/2 litre per 10 section radiator with an output of 1,700 watts at 60c of hot water delivery.
I have re-engineered the heat pipes incorporated in my evacuated super heat pipe collectors into these waterless radiators.
This now allows my company to increase the number of collectors on the roof to 50% greater, to gain 40% of my homes heating needs because of the very low water content and the way the solar heated water flows through the bottom of each radiator to the next, without passing across the face of the panel.
Heat up time is 30 seconds, with the back up to the solar a new frictionless electric boiler.
For the American market the holy grail is heating in winter and switching over to cooling in summer.
Good news is we have also tied up with a Swedish manufacture of solar absorption chillers to complete the system package
Featured Product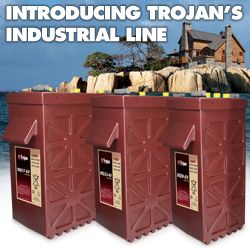 Trojan's deep-cycle batteries provide rugged durability, outstanding performance and long life for use in all types of solar energy installations. With over 90 years of experience, Trojan delivers the world's most reliable and trusted batteries in flooded, AGM, Gel, and Lithium types. These batteries enable solar equipment systems to operate at a peak level of performance in the harshest conditions or the most challenging of locations and are manufactured and tested to IEC standards.