Carbon Credited Farming PLC (CCF) today announced the opening of its new office in Jakarta, Indonesia.
London, UK - August 3, 2010 - Carbon Credited Farming PLC (CCF), The Green Energy Company, today announced the opening of its new office in Jakarta, Indonesia. The new office increases the company's current reach to support its rapid growth across Southeast Asia. CCF's Indonesian office will manage operations from The Energy Building, the country's most energy efficient building which aligns perfectly with the company's overall conservation goals.

Agus Sari is joining CCF as the Chief Executive of the Company's Conservation division, and he will be based in the new Indonesian office. He is strategically placed to oversee and coordinate CCF's conservation efforts within the South East Asia region. Agus comes to CCF with a strong background in environmental science and policy - most recently, he served as Country Director of Indonesia and Policy Coordinator for South East Asia at Eco-securities. He is also a Nonexecutive Director at PEACE, a private advisory company on sustainable development, a member of the Advisory Board of Sustainable Development Network and a member of the Board of EcoEquity, a U.S. environmental non-governmental organization. He also sits on several prestigious scientific and business committees, most notably the Nobel Prize-winning Intergovernmental Panel on Climate Change (IPCC).
"I have followed the climate change issue since the late 1980s, and I am truly honored to be working for a company with a mission and a business model which I know has the ability to make a powerful impact," commented Agus. "I look forward to leading conservation efforts to make a difference - not only on the environment in this region, but on the global environment as a whole."
Spearheading the Indonesian office is Shaun D. Levine, Head of Operations, South East Asia. Prior to CCF, Shaun spent time serving as the Technical Advisor for Business Development and Operations at the Lippo Group in Jakarta. He brings over 10 years of expertise in international and media relations as well as Indonesian law, politics and economics to his new position at CCF.
"I am excited to have joined such a dynamic company that is providing renewable energy sources through a sustainable commercial framework that benefits the environment, the economy and the people of South East Asia," said Shaun. CCF has already established a strong business in the region, and I look forward to working more closely with local communities and government agencies to develop new joint ventures, generate revenues and create jobs, while working to reduce our environmental impact."
CCF focuses on the development of sustainable agroforestry operations with the focus on energy crops and lumber. CCF is also the administrator for the Global Conservation Standard which is designed to monitor, protect and enhance conservation areas and, in particular, forestry-based reserves through a valuation methodology consisting of existing carbon pools.
To learn more, please visit http://www.carboncreditedfarming.com.
About Carbon Credited Farming
CCF is a UK-based Company with a core focus on the development of green oil resources through agroforestry in a growing number of locations, including Asia and Africa. New operations are constantly being added to dramatically expand and meet market demand. The renewable, sustainable fuel resources created by CCF work in parallel to the crude oil industry creating a real and scalable commercial alternative to crude oil and associated routes to market. CCF acts as a plantation developer (oil lease operator) for larger clients with budgeted fuel or investment return requirements. For more information, please visit us at www.carboncreditedfarming.com or email corporate@carboncreditedfarming.com.
CCF is both socially and environmentally focused having developed the Global Conservation Standard, a conservation program and financing initiative for the environment and indigenous people (www.conservationstandard.org).
Press Contact:
Brianna Schweitzer Swales
Vantage Communications for Carbon Credited Farming PLC
+1 843-576-4139
bswales@pr-vantage.com
Featured Product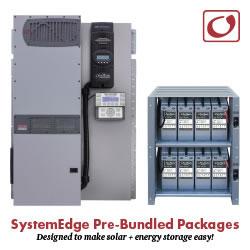 Each pre-bundled package is designed to make solar plus energy storage easy. By combining OutBack's most popular FLEXpower pre-wired systems with matched OutBack energy storage, SystemEdge takes the guesswork out of installing solar plus storage. Every SystemEdge package includes a FLEXpower factory pre-wired system, application-specific EnergyCell batteries and racking, FLEXware ICS Plus combiner and all the necessary connection hardware.