Sono-Tek will highlight its ultrasonic coating equipment, including a high-speed ultrasonic reciprocating coating system, HyperSonic, in Hall 4/Level 2/A45 at the 25th EU PVSEC in Valencia, Spain from 6-9 September 2010.
Milton, NY — August 2010 — Sono-Tek Corporation, a US-based company specializing in ultrasonic equipment used for alternative energy product manufacturing, will highlight its ultrasonic coating equipment, including a high-speed ultrasonic reciprocating coating system, HyperSonic, in Hall 4/Level 2/A45 at the 25th EU PVSEC in Valencia, Spain from 6-9 September 2010.

The HyperSonic system is designed to coat large area solar glass (up to 122 cm) with uniform, thin film anti-reflective coatings. Sono-Tek's ultrasonic coating technology applies an optimum anti-reflective layer, maximizing light available for conversion and increasing transmission over the sun's incident angles.
Traditional CVD and PVD for solar glass coatings are expensive, slow batch manufacturing processes. Pressure nozzles are capable of spraying anti-reflective suspensions; however, they have critical process limitations. Significant overspray and clogging, along with poor deposition control and inconsistent uniformity are major drawbacks to pressure nozzle technology. Sono-Tek's ultrasonic nozzles are able to overcome these limitations with minimal bounce back and overspray, non-clogging performance, and uniform thin-film coatings. The benefits of ultrasonic coating include the ability to control thickness of deposition, drop size control (by varying nozzle frequency), and tight drop distribution, resulting in precise, uniform deposition. Ultrasonic nozzles are ideal for spraying nano-suspensions commonly used in anti-reflection coatings, as the continuous ultrasonic vibration of the nozzle deagglomerates particles and keeps them evenly suspended in the solution.
The HyperSonic system incorporates Sono-Tek's precision ultrasonic atomizing nozzles with a robust, high-speed reciprocator (up to 2 meters/second) designed for industrial volume manufacturing. Featuring user-friendly control of system functions using Windows-based software, including programming and recipe storage, HyperSonic easily retrofits over existing conveyorized systems.
Sono-Tek's ultrasonic technology has been proven successful in precision coating applications with some of the largest solar glass manufacturing companies worldwide. Well known for its non-clogging, low maintenance design, Sono-Tek ultrasonic nozzle systems are uniquely suited to provide the solar glass industry with high performance coatings for cost effective conversion efficiency.
For more information on the HyperSonic system or other ultrasonic coating technologies from Sono-Tek, stop by Hall 4/Level 2/A45 at EU PVSEC, or go to www.Sono-Tek.com or e-mail info@Sono-Tek.com.
###
About Sono-Tek Corporation
Sono-Tek is the world leader in the development and application of ultrasonic coating systems for electronics and advanced energy applications. Compared to conventional pressure spraying methods, the company's ultrasonic nozzles do not clog, reduce liquid usage, waste, and environmental impact while achieving much more precise, uniform, thin film coatings. Sono-Tek is continually developing new applications for its unique technology, replacing wasteful practices in a world that is growing ever more environmentally sensitive. For more information, visit the company's website at www.sono-tek.com.
Featured Product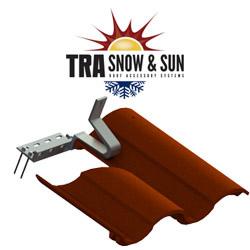 You haven't installed a tile mount that is easier to install than the Solar Tile Mount manufactured by TRA Snow and Sun. Solar Tile Mount is used on all tile roof profiles: flat, mid, and high. It is made in the USA of aluminum alloy for strength and excellent corrosion resistance. Solar Tile Mount is built to allow more ease in installation with more rise from the tile surface to the rail for better air flow below panels. The adjustable base is longer than most allowing attachment 6" to the left or right to have the bracket in the base of the pan of the tile and still fasten to the rafter. Solar Tile Mount is adjustable for counter batten systems from ¾" to 3". The horizontal rail is directly above base fasteners giving greater uplift resistance than any other system. For superior waterproofing apply TRA Snow and Sun's butyl backed VersaFlash aluminum flashing. No tile flashing is needed on top of the tile for greater labor and material cost savings.