Conservation Services Group, a national energy services firm, has garnered five awards from the prestigious New England Direct Marketing Association. In addition to creating and immplementing ee and renewable energy programs nationwide, CSG also offers its clients strategic marketing services.
WESTBOROUGH, Mass., Aug. 5, 2010 -- Conservation Services Group (CSG) is the recipient of five awards from the New England Direct Marketing Association (NEDMA) for creative excellence in direct marking. The honors were announced at the association's 29th annual awards show in Boston recently.
The NEDMA awards are held annually to honor innovation and creative excellence in a direct marketing campaign. The awards are selected in several categories including print advertisements, interaction, integrated media campaigns and catalogs. Winners were selected from more than 400 entries this year, a 27 percent increase over last year.
CSG, a national energy services firm based in Mass., has won several awards for marketing over the years. At the NEDMA event, CSG garnered three "Gold" awards for the following clients:
NSTAR/GasNetworks
· Direct mail for lead generation and image/brand building,
· Direct mail for contractor incentive for program for gas heating equipment
Kansas City Power & Light (KCP&L)
· Interactive Web site - "Cool Homes" contractor portal
Two "Bronze" awards to CSG for the following campaigns:
· Integrated media campaign - lead generation and image/brand building for client, KPC&L
NEDMA is the country's first regional direct marketing association in the country and supports innovations in the discipline of direct marketing. Erin Sheehan Daly, NEDMA's vice president of awards, said, "I am always impressed by the caliber and number of entries and this year is no exception."
Kathleen DeVito, director of corporate communications for CSG, oversees the firm's marketing campaigns for a large number of clients. She said, "CSG is proud to be affiliated with one of the most prestigious trade associations in its field. Congratulations to our marketing team for the creativity and hard work on these campaigns."
Conservation Services Group, a non-profit organization, was founded in 1984. Based in Westborough, Mass., the firm has 625 employees in 20+ offices throughout the U.S. In addition to marketing services, CSG provides energy saving strategies, program design, management services and renewable energy technologies to consumers and businesses nationwide. For more information visit, www.csgrp.com.
Featured Product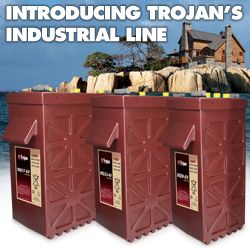 Trojan's deep-cycle batteries provide rugged durability, outstanding performance and long life for use in all types of solar energy installations. With over 90 years of experience, Trojan delivers the world's most reliable and trusted batteries in flooded, AGM, Gel, and Lithium types. These batteries enable solar equipment systems to operate at a peak level of performance in the harshest conditions or the most challenging of locations and are manufactured and tested to IEC standards.