Lawrence, MA - August 4, 2010 - Solectria Renewables, LLC, the leading U.S. PV inverter manufacturer, announced today the installation of its commercial inverters at the first photovoltaic (PV) system with electric vehicle (EV) charging stations in the Southern United States.
Solectria Renewables, in partnership with Outpost Solar, provided two (2) 13kW PVI grid-tied inverters for the 20.16kW system installed at Richland, LLC in Pulaski, Tennessee.

Outpost Solar's parking area solar arrays combine function and form by integrating electric vehicle (EV) charging. Outpost Solar strategically decided to incorporate the EV charging stations to accommodate the growing EV market. The solar array will generate over 24,000 kWh of electricity annually which will be used to charge the EVs. The parking area is 55' long and 32' wide and will accommodate 12 electric vehicles.
All components used for the parking garage system are American made, including Solectria Renewables' high efficiency inverters. Wilson Stevenson, President of Outpost Solar stated, "We chose Solectria Renewables inverters because of their reliability, efficiency and being manufactured in the United States. Their proven technology addressed the necessary requirements for this project and we expect maximum performance from the system."
At the commissioning ceremony held this morning, Scott Bowden, Business Development Manager for Solectria Renewables said, "We are extremely excited to be the inverter provider for this project. Outpost Solar is leading the way in converting parking areas into energy resources. This project exemplifies Outpost Solar's vision of the future."
The commissioning ceremony was attended by U.S. Congressman, Lincoln Davis, Pulaski Mayor, Dan Spear, and Pulaski Electric System President, Wes Kelly as well as representatives from Solectria Renewables and Outpost Solar. Congressman Davis is a strong supporter of renewable energy projects and was extremely proud to take part in the ceremony and activate the array.
About Outpost Solar
Outpost Solar is a Middle-Tennessee based company that provides creative solutions for solar energy implementation ranging from deployable off-grid generation systems, designed for military and recovery operations, to electric vehicle infrastructure solutions and array systems that generate a megawatt or more.
About Solectria Renewables, LLC
Solectria Renewables, LLC is the leading U.S. based PV inverter, string combiner and web-based monitoring company for residential, commercial and utility-scale solar projects. Our wide range of products includes 1.8kW to 500kW grid-tied inverters for systems from 1kW to multi-MW photovoltaic systems. Solectria Renewables is backed by over 20 years experience with inverters and other electronic power systems for harsh environments.
CONTACT
Natalie Wiener
Marketing Manager
+1 978-683-9700
natalie@solren.com
###
Featured Product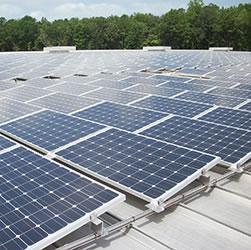 The Power Rail™ Commercial Mounting System is designed with the professional PV solar installer in mind. Both the XD/UD and LD/MD rails feature single tool assembly with the revolutionary patented RAD™ Lock-in-Place bolt for fast and secure module clamping. The high strength marine-grade aluminum rails include an integral wiring channel for securing cables and providing a professional finish.