Guelph, ON (August 11, 2010) Canadian Solar Inc., one of the world`s largest solar companies, is announcing the location and the next steps to establishing a new solar module manufacturing facility in Ontario, Canada at a media conference being held this morning. The facility, located at 525 Speedvale Avenue, West in Guelph, Ontario, Canada, is expected to be ready to commence production early next year, and will be one of the largest solar panel module manufacturing plants in North America. The facility is being developed by Canadian Solar Solutions Inc. - a wholly owned subsidiary of Canadian Solar.
"The McGuinty government's Green Energy Act is helping to create jobs and build manufacturing facilities across the province," said Brad Duguid, Ontario's Minister of Energy and Infrastructure. "Right here in Guelph, almost 500 Ontarians will help build solar panel modules to support the growing renewables industry in our province and throughout North America."

The new facility will be Canadian Solar's first feed-in-tariff domestic content compliant solar manufacturing facility in Ontario, and will be located between Imperial Road and Speedvale Avenue in Guelph, Ontario. The new facility will be capable of manufacturing 200 megawatts of solar modules a year while employing approximately 500 people in the process.
Dr. Shawn Qu, Chairman and CEO, Canadian Solar said, "We salute the Province of Ontario and its leaders for their exemplary commitment to renewable energy. The issue of climate change is arguably one of the most important challenges we are facing today; therefore, it's inspiring to see such a wide range of groups - government, business, investors and citizens come together to build a mutually beneficial solution. Through innovation, creativity and hard work, we are able to mitigate climate change and create needed employment."
"Canadian Solar is proud to play a part in the success of the Green Energy Act, added Milfred Hammerbacher, President, Canadian Solar Solutions. "As a result of the forward thinking actions of the Liberal government and the City of Guelph, we are able to bring hundreds of jobs and more environmental sustainability in a very exciting time for renewable energy in Ontario."
The new facility is Canadian Solar's first solar module manufacturing facility in Canada. The site selection for the new manufacturing facility spread all across Ontario, but in the end Guelph was chosen over several major cities. The City was selected as a result of their commitment to making sustainability the hallmark of their community through their Community Energy Initiative.
"The community, as a whole, illustrates in many ways their commitment to sustainability," said City of Guelph's Mayor, Karen Farbridge. "One great example is Guelph Hydro. In keeping with their desire to help build a sustainable community, they will be installing a 100 kW Canadian Solar Solution's turnkey system on their facility's rooftop. The system will be operational next year."
About Canadian Solar Inc. (NASDAQ: CSIQ)
Canadian Solar Inc. is a leading vertically integrated provider of ingot, wafer, solar cell, solar module and other solar applications. Canadian Solar designs, manufactures and delivers solar products and solar systems for on-grid and off-grid use to customers worldwide. Canadian Solar is one of the world's largest solar module producers by manufacturing capacity. With operations in North America, Europe and Asia, Canadian Solar provides premium quality, cost-effective and environmentally-friendly solar solutions to support global sustainable development. For more information on Canadian Solar Inc., visit www.canadiansolar.com . Canadian Solar Solutions Inc. is a wholly owned subsidiary of Canadian Solar Inc. For more information on Canadian Solar Solutions, visit www.canadian-solar.ca .
Safe Harbor/Forward-Looking Statements:
Certain statements in this press release including statements are forward-looking statements that involve a number of risks and uncertainties that could cause actual results to differ materially. These statements are made under the "Safe Harbor" provisions of the U.S. Private Securities Litigation Reform Act of 1995. In some cases, you can identify forward-looking statements by such terms as "believes," "expects," "anticipates," "intends," "estimates," the negative of these terms, or other comparable terminology. Factors that could cause actual results to differ include general business and economic conditions and the state of the solar industry; governmental support for the deployment of solar power; future available supplies of high-purity silicon; demand for end-use products by consumers and inventory levels of such products in the supply chain; changes in demand from significant customers, including customers of our silicon materials sales; changes in demand from major markets such as Germany and Canada; risks associated with building our new Ontario facility; changes in customer order patterns; changes in product mix; capacity utilization; level of competition; pricing pressure and declines in average selling prices; delays in new product introduction; continued success in technological innovations and delivery of products with the features customers demand; shortage in supply of materials or capacity requirements; availability of financing; exchange rate fluctuations; litigation and other risks as described in the Company's SEC filings, including its annual report on Form 20-F originally filed on June 8, 2009, as amended by its report on Form 20-F/A filed on October 14, 2009. Although the Company believes that the expectations reflected in the forward looking statements are reasonable, it cannot guarantee future results, level of activity, performance, or achievements. You should not place undue reliance on these forward-looking statements. All information provided in this press release is as of today's date, unless otherwise stated, and Canadian Solar undertakes no duty to update such information, except as required under applicable law.
-30-
Contact Information
Investor Relations Media Relations
Alex Taylor, Canadian Solar Inc. Tanya Bragg, Canadian Solar Solutions Inc.
Tel: +1-519-954-2057 Tel: +1-519-954-2057
Fax: +1-519-954-2597 Fax: +1-519-954-2597
ir@canadiansolar.com Tanya.Bragg@canadian-solar.ca
Electronic copies of the media kit are available by visiting: https://cssi.firmex2.com/app/login.aspx
Login: mediakit
Password: canadiansolar1!
Featured Product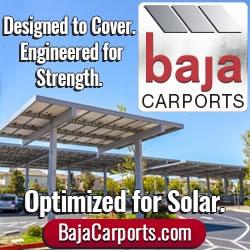 Baja Carports offers an extensive solar support system product line customized to customers' site specifications by in-house engineers, meeting their parking lot coverage, plus optimal PV production needs. Baja's Full Cantilever Tee is often paired with its Semi and Full Cantilever carports to meet live/loads up to 60psf and wind speeds to 160mph. All Baja products are pre-fabricated, bolted connections, pre-galvanized structural steel for fast on-site installation and project aesthetic requirements."