The Awards, in their second year, recognize and promote industry excellence.
From today, concentrated Solar Thermal power suppliers, developers and EPCs are able to nominate themselves to win one of the CSP Today International Awards.

In order to respond to the developments over the past months in the industry, CSP Today has launched a different set of awards. This year for the first time, companies will be able to nominate themselves in categories such as CSP technology supplier of the year, CSP engineering firm of the year and many more.
The awards are distributed in three different categories covering general awards, specialized by company role and finally to outstanding individuals.
The CSP Today International Awards will be handed over at the 4th International Concentrated Solar Thermal Power Summit that will be held in Sevilla from November 15 -17, at the Barceló Renacimiento Hotel.
To nominate for the prestigious award, companies must download the nomination form, fill it up and send it back before the deadline of the 20th of September. The categories that might be applied for are as follows:
General:
• CSP commercialized technology innovation of the year
• Increased dispatchability solution of the year
• Emerging markets achievement of the year
• Newcomer of the year
• Best CSP integration of the year
Specialized:
Supplier companies, engineering firm, solar developers & EPC constructors can apply for their particular categories. It is a chance to enhance the achievements of your company over the past months
• CSP technology supplier of the year
• CSP engineering firm of the year
• Most effective CSP project development of the year
• EPC contractor of the year
Individual:
• CSP special achievement award
• Lifetime achievement award
In order to apply for an international award visit http://www.csptoday.com/csp/awards-categories.shtml to see the basis and nomination form.
About CSP Today: CSP Today is the leading business intelligence & events company for the concentrated solar thermal industry. To sign up for news or check up upcoming events please go to www.csptoday.com
Contact details:
Patricia Tatto
Marketing Manager
CSP Today
patricia@csptoday.com
Phone +44 207 3757 564
US toll free 1800 814 3459 ext 252
Featured Product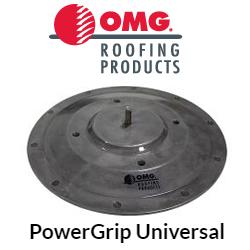 PowerGrip Plus Roof Mount System, a watertight structural attachment system used to secure ballasted solar racks and other equipment to roofs covered with thermoplastic (TPO and PVC) membranes. PowerGrip Plus is designed with wind performance in mind and offers ultimate tensile strength of 2,000 lbf. and ultimate shear strength of 1,075 lbf. Properly installed PowerGrip Plus units reduce rack movement and remaining watertight. PowerGrip Plus units are easy to install, saving both time and labor when compared to alternative options. A wide membrane skirt promotes easy welding in place, and the 15/8 diameter and 1/2 inch tall mount provides an optimal perch for securing brackets or struts. The exposed 1 inch tall and 3/8 inch diameter bolt and mounting stand are made from corrosion-resistant stainless steel and aluminum alloy for superior long-term performance.