PV System Installation is one of the largest agricultural solar installations in Massachusetts
Lawrence, MA - August 16, 2010 - Solectria Renewables, LLC, the leading U.S. PV inverter manufacturer, announced Friday the completion of a 220kW ground-mount photovoltaic (PV) system at Carlson Orchards in Harvard, MA. Solectria Renewables, in partnership with Lighthouse Electrical Contracting, Inc. of Rockland, MA, provided two (2) PVI 95kW inverters and SolrenView, Solectria's web-based monitoring system, for one of the largest solar installations at an agricultural site or farm in Massachusetts.

Carlson Orchards' 140 acre farm produces apples, peaches and nectarines and is the largest apple cider supplier in New England. The farm consumes about 400,000 kilowatts (kW) of energy per year, largely for the operation of refrigeration units used to grow, store and preserve the fruit. This energy use amounts to over $80,000 in energy costs per year. The completed PV system is expected to generate approximately 75-80% of the annual energy usage, saving the orchard about $60,000 per year.
In a June article from the Harvard Post, General Manager of Carlson Orchards, Frank Carlson, stated, "With what we're going to put into [the project] it's probably about a five year payback, which in farming is better than planting an apple tree."
The solar project was funded in large part by a grant from the Massachusetts Clean Energy Center (CEC) along with other grants from the USDA National Conservation Resource Services and the Massachusetts Department of Agricultural Resources. The system was designed by Lighthouse Electrical Contracting and contains 1,050 Evergreen 210W solar panels, a DPW Solar Corporation ground-mount system, two (2) Solectria Renewables PVI 95kW inverters and SolrenView.
"From the beginning, there was no question that we would use Solectria Renewables' inverters for this project. They are a growing Massachusetts based company with the most reliable inverters and a web-based monitoring system. They were a great partner," said Herbie Aikens, Owner of Lighthouse Electrical Contracting.
A ribbon-cutting ceremony celebrating the Carlson Orchard's solar system's interconnection to the power grid was held on Friday, August 13. The ribbon-cutting ceremony was attended by Congresswoman, Nikki Tsongas, USDA officials as well as representatives from Solectria Renewables and Lighthouse Electrical Contracting.
"Carlson Orchards is one of the largest orchards in Massachusetts and now has the largest solar installation on a farm in Massachusetts. This project marks an important step as we continue to expand our manufacturing capacity. We are pleased to be the solar inverter manufacturer for this project and to work so closely with the Orchard as they expand their 'green' focus," stated Anita Worden, Chairwoman of Solectria Renewables.
About Carlson Orchards
Carlson Orchards was founded in 1936 by Walter and Eleanor Carlson. In the thirties and forties, they made their living from a diversified farm of chickens, cows, potatoes and apples. In the late sixties, the farm specialized in fruits with apples being the main crop. The Carlsons are dedicated to growing the best tree fruits, blueberries, raspberries, and pumpkins as well as producing the best tasting apple cider available anywhere.
About Lighthouse Electrical Contracting
Lighthouse Electrical Contracting provides a wide-range of projects and services including custom designs for solar systems. They are committed to their customers and provide the highest quality workmanship. They always ensure projects are completed on-time and on-budget.
About Solectria Renewables, LLC
Solectria Renewables, LLC is the leading U.S. based PV inverter, string combiner and web-based monitoring company for residential, commercial and utility-scale solar projects. Our wide range of products includes 1.8kW to 500kW grid-tied inverters for 1kW to multi-MW photovoltaic systems. Solectria Renewables is backed by over 20 years experience with inverters and other electronic power systems.
To learn more about Solectria Renewables, please visit http://www.solren.com.
CONTACT
Natalie Wiener
Marketing Manager
+1 978-683-9700
natalie@solren.com
###
Featured Product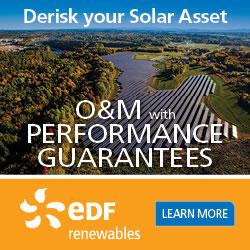 EDF Renewables offers the same innovative solutions that maximize the performance of our own 5.2 GW of installed projects. Because we're not an equipment manufacturer, our recommendations are transparent and data-driven. We cover the entire project lifecycle: from pre-commissioning support, through warranty and post warranty operation, to late stage and decommissioning.