High efficiency drives decision to again choose Tritan
NORTH BILLERICA, Mass — Aug 19, 2010 — BTU International, a leading supplier of advanced thermal processing equipment for the alternative energy and electronics manufacturing markets, today announced the receipt of a follow-on order from an existing Tritan™ customer in Europe for multiple Tritan metallization firing systems. All of the units are scheduled for shipment in the fourth quarter of this year.

"We are pleased that our customer is again relying on BTU and Tritan when increasing their production volumes," said Jan-Paul van Maaren, Ph.D., vice president of marketing at BTU. "This customer, known for high-efficiency solar cells, has found Tritan's TriSpeed™ technology enabling, which is consistent with the experimental results many other customers have seen."
The Tritan metallization firing system, featuring BTU's exclusive TriSpeed technology, allows users to take advantage of superior ramp rates--up to 200ºC per second--while not compromising the drying and cooling sections of the profile. The three-belt, three-speed system provides revolutionary control of profile development. In performance trials, Tritan™ has consistently shown an improvement in fill factor, resulting in increased efficiency. This, combined with Tritan's low cost of ownership, delivers the lowest cost per watt.
About BTU International
BTU International (Nasdaq: BTUI) is a market-leading, global supplier of advanced thermal processing equipment to the alternative energy and electronics assembly markets. BTU's equipment and expertise are used in the manufacturing of solar cells and nuclear fuel as well as the production of printed circuit board assemblies and semiconductor packaging. BTU has design and manufacturing operations in North Billerica, Massachusetts and Shanghai, China with direct sales and service worldwide. Information about BTU International is available at www.btu.com.
###
Company Contact:
Jan-Paul van Maaren
Vice President Marketing
BTU International, Inc.
Phone: (978) 667-4111
Media Contact:
Megan Wendling
MW Associates
Phone: (239) 537-6001
Source: BTU International
Featured Product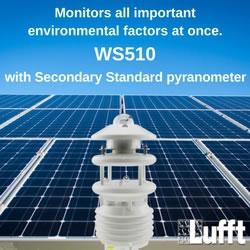 First and only Smart Weather Sensor with integrated Kipp & Zonen CMP10 Pyranometer (secondary standard). From the WS product family of professional intelligent measurement transducers with digital interface for environmental applications. Integrated design with ventilated radiation protection for measuring: Air temperature, relative humidity, air pressure, wind direction, wind speed and radiation. One external temperature or rain sensor is connectable.