US Television Show Gives an In-Depth Look at Endurance Wind Power
Vancouver, BC August 23 2010 - On August 18th, the US-based Ion Network's "World's Greatest" television series wrapped up its three-day showcase airing of Endurance Wind Power. "World's Greatest" is a television show that takes a behind-the-scenes look at some of the most amazing and unique companies, products, people, and travel destinations the world has to offer. This is the show's fourth year in production. In past years the show has conducted profiles on companies such as Anheuser Busch, Autotrader.com, Samsung, Booster Juice, Plantronics, Land's End and many more.

"Being selected to appear on 'World's Greatest' is quite an honour. The profile gives the public an in-depth look into our company and how it has grown to where we are today. It also highlights one of our company's proudest achievements - assisting Greensburg, Kansas to become one of the greenest towns in North America," said Glenn Johnson, CEO of Endurance Wind Power.
The series showcased how the wind turbines produced by Endurance help to provide a healthier, cleaner world and included interviews with Endurance Wind Power CEO, Glenn Johnson, as well as the Vice President of the BTI Harvest the Wind Network, Mike Estes. BTI is Endurance's first and strongest distributor with a series of dealers set up through the John Deere Dealer Network. Endurance's strong partnership with BTI is what led them to work together to rebuild the town of Greensburg, Kansas into one of the greenest towns in North America after it was devastated by a 2007 tornado.
The video profile from the "World's Greatest" can be seen on the Endurance Wind Power website at www.endurancewindpower.com.
Endurance Wind Power is a manufacturer of advanced wind turbines designed specifically for distributed wind power applications. Their line of modern, induction-based wind turbines brings efficient, reliable, safe and quiet, renewable energy within reach of homeowners, farmers, businesses and institutions across North America, the United Kingdom and an expanding global market.
###
If you would like more information about this topic, or to schedule an interview with Glenn Johnson, please call Brian Hanson at
+1 604 579 9439 or email Brian at bhanson@endurancewindpower.com
Featured Product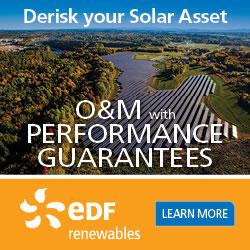 EDF Renewables offers the same innovative solutions that maximize the performance of our own 5.2 GW of installed projects. Because we're not an equipment manufacturer, our recommendations are transparent and data-driven. We cover the entire project lifecycle: from pre-commissioning support, through warranty and post warranty operation, to late stage and decommissioning.