This professional course is specifically designed to guide you and your employees into the rapidly growing small wind industry. After 5 days, you will be fully equipped to address every element of the wind market from strategy and operation to sales to all technical aspects of small wind products.
TALCO UNIVERSITY "MARKET MASTER" TRAINING PROGRAM

5 Day Course - San Diego CA
October 18-22, 2010
This is the only course offered that guides a company and its key employees into the wind industry. This is designed to address every element required to be successful in the small wind market - from strategy and operations to sales.
After just 5 days, you will be fully equipped to sell and deliver to the rapidly growing wind market.
This is a highly-intensive, 5-day initial course presented in San Diego. Included with the classroom instruction, Talco also provides ongoing remote technical, sales and strategic training and support to each of our dealer/partners throughout the year.
Day 1
MANAGEMENT TRAINING
For General Managers, CEO's and Executives who want to understand the market and create and execute growth strategies.
TOPICS TO BE ADDRESSED on DAY 1:
-Business Environment: History of the Industry and Growth market segments
-Products: Pricing, Suppliers & Trends
-Incentives: Federal, State and local programs specific to each participant's region
-Tying it all together: Creating successful business strategies and great customers
Day 2:
SALES TRAINING
For General Managers, CEO's, Sales Managers and Sales people who are expected to find and close new sales.
TOPICS TO BE ADDRESSED on DAY 2:
-Prospecting: How to find new customers
-Qualifying: Make sure you are focusing on buyers
-Closing: Getting the sale at the right price
-Managing: Creating and managing a reliable pipeline
Day 3, 4, 5:
TECHNICAL TRAINING
For Installers, Engineers, General Managers, Sales Managers and Sales people who are expected to install or sell small wind products.
TOPICS TO BE ADDRESSED on DAY 3, 4 & 5:
-Wind Site Assessing: Evaluate the site's wind energy potential
-Wind Theory: Basic wind theory and how obstructions affect the wind
-Different Turbine Designs: Learn about the different turbine types and how to make recommendations to meet the client's needs
-Basic Electrical Theory: How Net Metering works, Grid Tie Vs. Battery Backup, & Electrical Theory
-Power vs. Energy: How to calculate Energy, how power relates to energy, and why energy is more important than power
KEY SPEAKERS & TRAINERS:
MICK SAGRILLO
Mick has over 20 years experience with wind technology and founded in 1983 Lake Michigan Wind & Sun, Ltd, a company which manufactures wind generator components & towers, re-manufactures and repairs equipment, and installs wind systems.
He has been involved in over 700 projects in 46 states and 29 foreign countries. He is also an author and has written many of the most influential articles published on small-scale wind technology. He is the wind editor and a regular contributor of wind power articles to Home Power Magazine; monthly columnist for the American Wind Energy Association's Windletter; columnist for Solar Today magazine and has written various articles on wind power for PV/Wind Energy News and Backwoods Home magazine. Many of his articles have been widely reprinted and translated into other languages. He has led many workshops on wind energy. He is a founding member of the Midwest Renewable energy Association and has served as president of the board since 1991. He has an unparalleled record of service to organizations working to promote sustainable energy and has received numerous awards for his outstanding work.
He is currently the owner of Sagrillo Power and Light, a consulting rm specializing in home-sized wind turbine technology and educational workshops.
PETER OSULLIVAN
Peter is an expert strategy and operations consultant. Previous to consulting, he oversaw several company turn-arounds and has led a venture backed start-up. He also brings with him big company experience from Pacific Bell and General Electric.
Peter is a regular speaker to Vistage, the largest CEO organization in the world, and has spoken at numerous events including The Association for Corporate Growth, The Executive Forum and TechAmerica (formerly AeA). He brings a well-organized, common sense approach to improving business operations.
He earned a BA in Economics from UCLA and an MBA from Santa Clara University. Peter attended courses in Financial Auditing/SOX at UCSD along with Six Sigma Leadership and Lean Six Sigma from Pepperdine's School of Business.
JOHN SCHUMANN
John is an international sales trainer and a partner in Whetstone Group. He brings a vast experience in sales and marketing for national and international companies over 27 years, working with Johnson & Johnson, PSICOR (acquired by Baxter Laboratories), NOVUS and Coral Therapeutics.
His experience includes selling products and services in both large international and small entrepreneurial companies. In addition to training in Whetstone's Training Center, he also teaches customized in-house/retreat sessions for corporate clients' sales forces.
John received his Bachelor of Science degree from the University of Wisconsin and was awarded "The Distinguished Flying Cross" and "The Air Medal" while serving as an USAF pilot in Vietnam.
Talco is committed to supporting the renewable energy industry. We believe we are significantly improving our dealer/partner's success by providing accurate, ongoing education and sharing our industry experience.
For pricing, registration or additional details, please contact Rebecca at:
858-272-8703
rebecca@talcoelectronics.com
www.talcoelectronics.com
Featured Product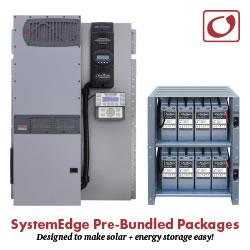 Each pre-bundled package is designed to make solar plus energy storage easy. By combining OutBack's most popular FLEXpower pre-wired systems with matched OutBack energy storage, SystemEdge takes the guesswork out of installing solar plus storage. Every SystemEdge package includes a FLEXpower factory pre-wired system, application-specific EnergyCell batteries and racking, FLEXware ICS Plus combiner and all the necessary connection hardware.