K& Company and Matinee Energy sign a Pre-Master Agreement to build alternative energy plant
August 18, 2010, Southern Highlands, NV.

Matinee Energy, Inc. announced signing a Pre-Master Agreement with K&Company Co., Ltd. (K&C) of Korea to construct a 40MW solar energy plant in California for up to $200 Million dollars. These projects are part of Matinee Energy's initial phase of solar projects and K&C will participate in subsequent phases for expanded capacities of energy plants.
K&C is a prominent KOSDAQ company that will join with a group of partners, namely, LS Industrial Systems Co., Ltd. of Korea, CHINT Group Corporation of China and Ilyang Engineering & Construction Co., Ltd. of Korea. Parties agreed that different specialty components will be supplied by different companies and the strategic alliance among constituents will help collaboration on cross-country and cross-company delivery of EPC components and equipment toward maximizing supply chain efficiency and construction of the energy plants on time and budget.
The Parties intend to sign a definitive agreement on September 3rd and implement terms of prior Agreements.
Chin Kim, vice chairman of Matinee Energy, said "K&C brings the expertise and experience of small to medium business to the table and its alliances with LSI, and CHINT, will help expedite the delivery of promising new technologies and products fit for the energy markets. Certainly, K&C's alliance will help access leading technology skill sets and competitiveness. The alliance will build resource strength and business capabilities to compete successfully in the green energy market place and next generation products of the future."
Technology solutions will be shared and localized for efficient integration among the constituents. It is the intention of the parties to establish an engineering and product development center to pursue rapid expansion of the product lines and features palatable and localized to wider range of customer bases.
Michael Pannos, chairman of Matinee Energy, said "with this K&C alliance all of us will benefit from direct knowledge and cultures by virtue of the partnership with Matinee Energy". We can benefit from valuable skills and energy competencies that are concentrated in the Far East. We also see substantial local job creation and benefit here."
About Matinee Energy, Inc.
Matinee is positioning itself in the Market place to implement and deliver infrastructure-based services through local utilities and facility-based services in transport, energy, and utilities. Matinee's plans are to develop utility scale alternative energy projects that will make a material contribution to the alternative energy sector, and harnesses diverse participants from the U.S. and around the world to better the alternative energy markets.
About K&Company Co., Ltd.
K&C has applied entrepreneurship to its development of vertical integration that is integral to solar energy business. Its mining business helped deliver the raw materials that are essential to production of energy chips for more efficient collection of solar energy. In addition, its successful delivery to the competitive market of solar tracking systems has enriched K&C commitment to solar energy industry. Experience in design, engineering, and installation of energy plants in Asia and elsewhere has prepared K&C for the energy industry. The Company has expanded in China and Eastern Bloc countries where it has accumulated experience and valuable know-how on installation and operation of energy plants. K&C expanded its study of the natural environment by seeking to encourage environmentally responsible economic activity. K&C has financed numerous land developments.
About CHINT Group Corporation
CHINT is the first in Asia and the third in the world, to manufacture and supply low voltage electric apparatus. CHINT is the largest manufacturer and supplier of power transmission, distribution and control equipment in China as well as measuring and monitoring equipment. CHINT manufactures and markets solar cells, modules, and system integration, and is a global provider of solar PV solutions and the next generation thin film technologies. CHINT has participated in the Three Gorges Dam, the hydroelectric (???) and Shenzhou spacecraft projects.
About LS Industrial Systems Co., Ltd. (LSIS)
LSIS provides, designs, manufactures, and markets products in four fields (i) electric vehicle components, (ii) green electric power IT, (iii) new and renewable energy, and (iv) eco-friendly equipment, toward realization of "Low Carbon, Green Growth." LSIS delivers power control unit, electric-vehicle relays that turn the power on and off between batteries and inverters, and on-board chargers that come with plug-in hybrid cars. LSIS has maintained sustainable technology leadership for EV-Relays and explores strategic alliances with automobile makers globally. LSIS has supported public-private green electric power projects and delivered successfully the smart grid, a next-generation electric grid, which optimizes electrical efficiency by combining the existing electric grid with IT. Since 1986 LSIS has delivered solar power solutions, inclusive of monitoring systems.
Matinee Energy, Inc.
Chris Connell
VP Business Development
702-287-3781
E-mail: chris.connell@matineeenergy.com
Featured Product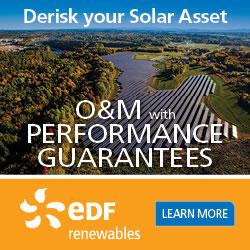 EDF Renewables offers the same innovative solutions that maximize the performance of our own 5.2 GW of installed projects. Because we're not an equipment manufacturer, our recommendations are transparent and data-driven. We cover the entire project lifecycle: from pre-commissioning support, through warranty and post warranty operation, to late stage and decommissioning.