He will discuss his vision for electric utilities as described in his new book, Smart Power: Climate Change, the Smart Grid, and the Future of Electric Utilities: http://www.smartpowerbook.com This will include business models that reflect the new roles and abilities required of utilities
Matthew Deal, Policy and Planning Division Director, will be the Master of Ceremonies, which includes moderating a Q&A session with Mr. Fox-Penner. In order to facilitate the session we encourage those with questions for the speaker to send them in advance of the event. Please send your questions to thoughtleaders@cpuc.ca.gov .

Thought Leaders events are free and open to the public.
Please reserve 10:30 AM to Noon on Wednesday, September 22nd, to join us in the CPUC Auditorium at 505 Van Ness Ave., San Francisco.
The event will also be available via webcast at: http://www.californiaadmin.com/cpuc.shtml.
To complete a very brief registration, please go to https://ia.cpuc.ca.gov/thtleaders/
Featured Product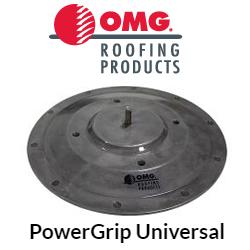 PowerGrip Plus Roof Mount System, a watertight structural attachment system used to secure ballasted solar racks and other equipment to roofs covered with thermoplastic (TPO and PVC) membranes. PowerGrip Plus is designed with wind performance in mind and offers ultimate tensile strength of 2,000 lbf. and ultimate shear strength of 1,075 lbf. Properly installed PowerGrip Plus units reduce rack movement and remaining watertight. PowerGrip Plus units are easy to install, saving both time and labor when compared to alternative options. A wide membrane skirt promotes easy welding in place, and the 15/8 diameter and 1/2 inch tall mount provides an optimal perch for securing brackets or struts. The exposed 1 inch tall and 3/8 inch diameter bolt and mounting stand are made from corrosion-resistant stainless steel and aluminum alloy for superior long-term performance.