Customers Can Now Easily Purchase Lunera Commercial LED Lighting Fixtures
Redwood City, Calif. (September 7, 2010) - Lunera Lighting, Inc., a Silicon Valley company that designs, manufactures, and markets next-generation LED lighting, is pleased to announce that its award winning, energy efficient LED fixtures are now available for purchase on the General Services Administration (GSA) Schedule. New to the Lunera® team, Harpreet Walia, head of Government Affairs, will be leading the company's government sales efforts.

The GSA Schedule program provides access to over 11 million commercial products and services at volume discount pricing. To qualify for the GSA Schedule program, all approved vendor products must be compliant with the commercial environment intended.
"We believe in creating sustainable, high quality, digital lighting through a combination of innovative fixture design and state-of-the-art technology. We are delighted that our products were approved on the first round to be included on the GSA schedule. Our commercial LED lighting products enable government agencies to progress towards energy efficient lighting for improved building performance and a more productive work environment," stated Michael Lesyna, CEO of Lunera Lighting.
Advantages of purchases made through the GSA Schedule are:
• Administrative work reduction
• Reduced purchase cycle
• Ease of use
• Procurement control
Lunera products can be purchased and ordered directly by federal customers through the GSA Advantage!® online shopping and ordering system. Products can also be purchased and ordered through Lunera directly. Lunera's inclusion on the GSA Schedule is enabled through an agreement with Fedlight Supply and can be found through schedule number GS07F-7118B on SIN:206-4.
Lunera's energy efficient LED fixtures are compliant with the Buy American provisions (Section 1605) of the American Reconstruction and Reinvestment Act of 2009 (ARRA) and the Buy American Act. Lunera's fixtures are produced and assembled in California and are designed for ARRA-funded public works projects that advance energy efficiency in new construction and building retrofits.
The company is committed to creating products that produce high quality light, following sustainable green building practices, and striving for the greatest level of customer satisfaction. Lunera fixtures help buildings acquire LEED certification, while providing quantifiable energy and maintenance savings leading to a strong return on investment in LED lighting systems.
Promises Kept vs. Promises Made
The lighting industry is undergoing a disruptive change in technology for the first time in over 100 years. Analysts predict that LED lighting will become the predominant light source within a few years.
Commercial building owners are open to change based on the promise of digital LED technology's: dramatic energy and maintenance savings; reduced environmental impact; and on Lunera's promise of delivering these benefits while improving the quality of light and fixture design to enhance the space for a building's occupants. Obtaining accurate information about LED lighting is key to making an educated product choice.
Lunera is committed to providing comprehensive information on LED technology, its environmental benefits plus maintenance and energy savings to help potential customers make an informed purchase decision. Corporate customers interested in making the switch to commercial LED lighting should visit the Lunera website for more information.
About Lunera Lighting
Lunera Lighting is an award-winning technology innovator leading the transformation from analog to energy-efficient digital LED lighting. Manufactured in the USA, Lunera's premium lighting fixtures are particularly attractive when seeking LEED certification, since LED lighting substantially impacts LEED points in "green" buildings. The company is also a firm believer in social and environmental responsibility and has made it part of their corporate philosophy. Visit http://www.lunera.com for more information or contact Lunera at 650-241-3875 or by email at info@lunera.com.
###
Contact:
Carol Warren
Antarra Communications
Tel.714-890-4500 cwarren@antarra.com
© 2010 Lunera Lighting, Inc. All rights reserved. Specifications are subject to change without notice. Lunera® is a registered trademark of Lunera Lighting, Inc., The Lunera logo and Life in a New Light are trademarks of Lunera Lighting, Inc. All other trademarks are the property of their respective companies.
Featured Product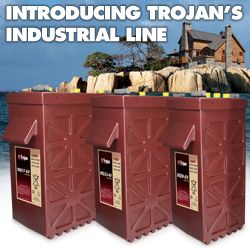 Trojan's deep-cycle batteries provide rugged durability, outstanding performance and long life for use in all types of solar energy installations. With over 90 years of experience, Trojan delivers the world's most reliable and trusted batteries in flooded, AGM, Gel, and Lithium types. These batteries enable solar equipment systems to operate at a peak level of performance in the harshest conditions or the most challenging of locations and are manufactured and tested to IEC standards.