Senator Dorgan Helped Create More than 10,000 Jobs in Fuel Cell and Hydrogen Energy Related Fields
Washington, DC - Senator Byron Dorgan (D-ND), who has been credited with helping create more than 10,000 fuel cell and hydrogen energy related jobs, has received the US Fuel Cell Council's (USFCC) 2010 Lifetime Achievement Award.

The USFCC announced today they will present the award at the Energy and Environmental Research Center's Hydrogen Summit in Grand Forks, N.D. Lifetime Achievement Awards are given to individuals for their exceptional vision and leadership in advancing fuel cells and hydrogen energy.
"The country that can harness the power of hydrogen - the most abundant element in the universe - will be the country with the healthiest economy, the cleanest environment, and the strongest energy and national security," said Senator Dorgan. "I will continue to fight for fuel cells and hydrogen energy program funding because it is the right thing to do for America's energy independence and economic future."
Fuel cells and hydrogen energy are integral components of the clean energy infrastructure, generating efficient, clean and reliable power from existing domestic fuels, like coal and natural gas, and storing or converting power generated by intermittent sources, such as solar and wind. Fuel cells and hydrogen energy systems can be scaled to power anything from hand-held devices to cars to central power stations, and play a vital role in meeting increasing demands for efficient, clean, and reliable power through distributed generation at businesses, government installations, and homes.
"We are honored to present Senator Byron Dorgan with our 2010 Lifetime Achievement award," said Ruth Cox, Executive Director of the USFCC. "He understands that now is not the time to abandon the country's considerable investment in fuel cells and hydrogen energy - it's time to finish the job so America can retain its competitive advantage and secure its energy future."
Senator Dorgan authored major portions of the Energy Policy Act of 2005 which firmly established the position of fuel cells and hydrogen energy in the clean energy portfolio. In his role as the Chairman of the Senate Appropriations Subcommittee for Energy and Water, he continued to champion this cause. Senator Dorgan was instrumental in restoring DOE funding for programs in the fiscal year 2010 budget which resulted in the demonstration of fuel cells and hydrogen energy servers in Smart Grid configurations using renewable energy from solar, wind, geothermal, and biomass.
Equally important was program funding to deploy stationary fuel cells for mission-critical applications in the telecommunications, health care, hospitality, food processing/retail industries; for Fuel Cell Electric Vehicles and their refueling infrastructure - vital to reducing our dependence on foreign oil and meeting our emissions reduction goals; and, for the SECA (Solid State Energy Conversion Alliance) program for use of fuel cells to sequester CO2 and efficiently generate clean electricity in coal power plants.
According to the Breakthrough Technologies Institute (BTI), Senator Dorgan's support for fuel cells and hydrogen energy programs over the years has yielded more than 10,000 industry-related jobs.
"Senator Dorgan's leadership has been essential in building the foundation for a strong clean energy economy that includes fuel cells and hydrogen. He is a remarkable public servant who puts the best interests of the country first, and has the strength to go against the tide when necessary," said Cox. "His leadership will be sorely missed in the Senate and we hope he will remain an Ambassador on behalf of our industry to leaders in Washington and the private sector when he leaves office."
About the U.S. Fuel Cell Council:
The USFCC is an industry association dedicated to fostering the commercialization of fuel cells and hydrogen energy. Our members include the world's leading fuel cell and hydrogen energy developers, manufacturers, suppliers and customers.
About the EERC: The Energy & Environmental Research Center (EERC) was designated as the National Center for Hydrogen Technology (NCHT) in 2004 in recognition of over 50 years of hydrogen research involving fossil and renewable energy. Since then, the program has had completed and funded contracts worth more than $66 million for the development of innovative hydrogen on-demand production systems, production of hydrogen from both fossil and renewable fuels, development of hydrogen dispensing systems, and integration of new technologies for hydrogen fuel cell vehicles.
Featured Product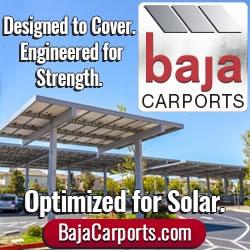 Baja Carports offers an extensive solar support system product line customized to customers' site specifications by in-house engineers, meeting their parking lot coverage, plus optimal PV production needs. Baja's Full Cantilever Tee is often paired with its Semi and Full Cantilever carports to meet live/loads up to 60psf and wind speeds to 160mph. All Baja products are pre-fabricated, bolted connections, pre-galvanized structural steel for fast on-site installation and project aesthetic requirements."