CSG continues to expand its regional services, naming a program director based in Portland, Ore.
TERRY MILLER NAMED A PROGRAM DIRECTOR

AT CONSERVATION SERVICES GROUP
WESTBOROUGH, Mass., Sept. 14, 2010 - Terry M. Miller has been named a program director for Conservation Services Group (CSG). In this role, Miller will oversee the design and implementation of local residential energy efficiency programs and be based out of CSG's Portland, Ore. office.
Miller has an extensive background in sustainability and the environment, having studied this field in both undergraduate and graduate school. Since then, his career has focused on urban environmental management and he is a recognized expert in the field of green community development in the Pacific Northwest. Miller is accredited by the U.S. Green Building Council and holds a LEED (Leadership in Energy and Environmental Design) certification.
Most recently, he spent three years with Green Building Services, Inc., a private consulting firm, based in Portland, Ore. Miller joined the firm in 2007 as senior consultant and manager, responsible for developing and managing new business units, informing strategic direction and expanding the firm's client base.
Prior to Green Building Services, Miller spent three years as green building program coordinator for the City of Portland's Office of Sustainable Development. There, he coordinated program implementation, forged and maintained strategic partnerships, managed the City's green building incentive fund and updated Portland's nationally-recognized green building policy.
At the University of Oregon, Miller majored in environmental studies and minored in French and played varsity football. He holds a master's degree from Yale University in environmental management. Miller is a native of Vancouver, Wash., and currently resides in Portland, Ore.
Founded in 1984, CSG provides energy savings strategies, program design, management services and technologies to utilities, government agencies, energy services companies, public housing authorities and other groups. The firm employs nearly 650 staffers nationwide and is headquartered in Westborough, Mass. For more information, visit www.csgrp.com.
Featured Product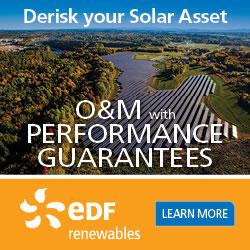 EDF Renewables offers the same innovative solutions that maximize the performance of our own 5.2 GW of installed projects. Because we're not an equipment manufacturer, our recommendations are transparent and data-driven. We cover the entire project lifecycle: from pre-commissioning support, through warranty and post warranty operation, to late stage and decommissioning.