Non-profit to host collection drive on Friday, September 24 to help San Diego take the lead in nationwide rechargeable battery recycling challenge
In July, Call2Recycle® issued a nationwide challenge to collect 1 million pounds of rechargeable batteries by October 1, as part of its MyCall2Recycle campaign. During the final stretch of the campaign, Call2Recycle is upping the ante for four of the country's leading cities for rechargeable battery recycling. Atlanta, Chicago, Dallas-Fort Worth and San Diego are now in competition to earn the title of "Call2Recycle's Greenest City in America."

To help San Diego compete, Call2Recycle is hosting a rechargeable battery collection drive at Poway High School 15500 Espola Road in Poway, CA on Friday, September 24. Anyone who brings a rechargeable battery or cell phone to the event will win a prize. The individual or group who brings the most pounds of batteries to the collection drive will receive a $100 grand prize gift certificate from a MyCall2Recycle retail partner: DeWALT, Lowe's, RadioShack or Staples. The drive will also feature an exhibition from Poway High School's Robotics team whose cutting-edge robots have won awards such as General Motors Industrial Design Award, the Motorola Quality Award and the Underwriters Laboratories Industrial Safety Award in Las Vegas.
Participants will also have a chance to create a short video explaining what inspires them to recycle as part of the MyCall2Recycle online video contest. Creators of the top videos will win prizes including DeWALT cordless power tools, FlipCam, Nintendo DSi or a Power Mat.
So, rally your schools, neighbors and coworkers together and help San Diego become "Call2Recycle's Greenest City in America."
The title will be given to the city with the largest percentage of increase from 2009 to 2010 in rechargeable battery recycling during the months July - Sept.
WHEN: Friday, September 24
2:30 p.m. - 6 p.m.
WHERE: Poway High School
15500 Espola Road
Poway, CA 92064
Rechargeable batteries can be found in many items we use everyday including cell phones, laptops, digital cameras, cordless power tools, two-way radios and cordless phones. People who cannot make the collection drive can still help San Diego win by bringing their rechargeable batteries to one of the 500 collection sites throughout the San Diego area. To find a location near you, visit mycall2recycle.org.
About Call2Recycle®
Call2Recycle® is the only free battery and cell phone collection program in North America. Since 1994, Call2Recycle has diverted more than 55 million pounds of rechargeable batteries from local landfills and established a network of 30,000 recycling drop-off locations. Advancing green business practices and environmental sustainability, Call2Recycle is the most active voice promoting eco-safe reclamation and recycling of rechargeable batteries and cell phones. Call2Recycle is operated by the non-profit Rechargeable Battery Recycling Corporation (RBRC). Learn more at call2recycle.org or 877.2.RECYCLE. Become a follower or fan at twitter.com/call2recycle or facebook.com/call2recycle.
Featured Product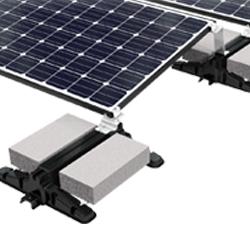 The Power Rail™ Commercial Mounting System is designed with the professional PV solar installer in mind. Both the XD/UD and LD/MD rails feature single tool assembly with the revolutionary patented RAD™ Lock-in-Place bolt for fast and secure module clamping. The high strength marine-grade aluminum rails include an integral wiring channel for securing cables and providing a professional finish.