Clenergy is a high Technology, multinational company focused on renewable energy development. Headquartered in Xiamen China, Clenergy had recently released two new products: SolarTerrace II and Solar Matrix PRO
Clenergy is a high Technology, multinational company focused on renewable energy development. Headquartered in Xiamen China where our product development occurs, Clenergy has operated in over 17 countries and has established centres of excellence in the UK and Australia in addition to Xiamen.

Innovation is key to our success, our products are designed to exacting quality standards and meet or exceed all relevant international requirements. Ease of installation and low maintenance ensures the best results for developers, suppliers, installers and consumers alike.
Our product range includes;
PV-ezRack, the mounting system for roof top, ground mount and building integration provides a solution that covers residential, commercial and utility scale installations.
Solar PowerHouse , grid-connected inverters delivering from 1.5kW through to 6kW models in the domestic series through to our modular utility grade inverters providing power in the network.
The Utility grade series will be released around the middle of 2011 supplying from 50kw through to Megawatt outputs.
In line with our commitment to continuous development we are increasing our range and are pleased to announce the launch of two new and exciting products;
SolarTerrace II, an innovative ground mount solution for Megawatt projects.
• a pre-assembled rammed structure ground mount system suitable for large commercial and utility scale installations. Using highly engineered quality components, PV•ezRack Solar Terrace II enables project developers to quickly and efficiently deploy large-scale projects.
• SolarTerrace II offers a high degree of flexibility. Driven pole technology eliminates the need for concrete foundations, reduces construction time and labour costs. SolarTerrace II has been tested and accredited by TUV.
SolarMatrix Pro, the next generation of our flat roof non-penetration solar mounting system.
• SolarMatrix Pro is arguably the fastest non-penetration system to deploy.
• Developed as a universal PV module mounting solution.
• Provides for tilt angles between 10 and 25 degrees, a range for all conditions.
• SolarMatrix Pro provides a combination of performance, functionality and flexibility.
• Once installed maintenance becomes easy with a simple catch arrangement to raise the panels when necessary .
• Testing is performed in a wind tunnel, and is being accreditation through TUV.
Clenergy continues to grow, from humble beginnings to over 170 customer focused staff world wide in a very short 3 years , we are committed to innovation , quality ,customer service and most importantly to ensuring a sustainable future.
Call your Clenergy partner now to find out how you can make a difference.
Featured Product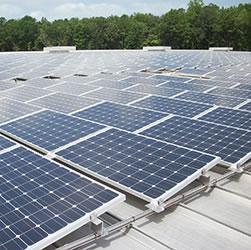 The Power Railâ"¢ Commercial Mounting System is designed with the professional PV solar installer in mind. Both the XD/UD and LD/MD rails feature single tool assembly with the revolutionary patented RADâ"¢ Lock-in-Place bolt for fast and secure module clamping. The high strength marine-grade aluminum rails include an integral wiring channel for securing cables and providing a professional finish.