Conference is recognized by Trade Show Executive as #1 Fastest Growing Show; Organizers release first-ever U.S. Solar Jobs Census report and open exhibit hall to the public on Wednesday, Oct. 13
WASHINGTON, D.C. - Sept. 29, 2010 - Solar Power International 2010, the largest business-to-business solar conference and expo in North America, today announced the 2010 line-up of General Session speakers at this year's conference taking place Oct. 12 - 14. Presented by the Solar Electric Power Association (SEPA) and the Solar Energy Industries Association (SEIA), Solar Power International is the premiere destination for solar industry professionals, utility executives, investors, technical experts and policymakers, as it offers the ideal environment to build cooperative relationships with the most professional, knowledgeable product and service providers in the solar energy business. More than 27,000 industry attendees are expected at the conference and more than 1,000 exhibitors are confirmed.

On Thursday, Sept. 23, Trade Show Executive awarded Solar Power International two of the most prestigious awards in the industry:
• Most Dramatic Growth in Exhibitors: The number of exhibitors at Solar Power International 09 was 118 percent over the previous year. There were 929 exhibiting companies on the expo floor and for SPI 10, that number is increasing to over 1,000.
• Show to Watch: This award identifies the show "most likely to succeed in the coming years." Not only did SPI achieve an impressive increase in exhibitors, it also grew 197 percent in net square feet and 20 percent in attendance, demonstrating the health and vibrancy of the solar industry overall.
The opening general session on Tuesday, Oct. 12 features Peter Darbee, CEO and president of Pacific Gas & Electric, who is interviewed by Emmy Award winning journalist Deborah Norville. Darbee discusses the current period of exponential growth and change in the energy industry drawing on parallels based on his previous experience in the telecom industry.
The highly anticipated CEO Roundtable Panel on Wednesday, Oct. 13, includes a line-up of leaders from top solar and electric power players sharing their perspectives on expanding the U.S. solar market and exploring concerns vital to the solar industry. This year's CEO Panel is moderated by FORTUNE Magazine Contributing Editor and GreenBiz.com Senior Writer Mark Gunther. Speakers include:
• Matthew Baker, commissioner, Colorado Public Utilities Commission
• Tony Clifford, chief executive officer, Standard Solar
• Dan Shugar, chief executive officer, Solaria
• Terry Wang, chief financial officer, Trina Solar
Keynote speakers James Carville and Mary Matalin headline the final general session on Oct. 14 to share insights on the latest policy developments and their impact the solar industry, including the upcoming mid-term elections. Matalin, a celebrated conservative and Republican insider, is a contributor to CNN and served as assistant to President George W. Bush and counselor to Vice President Dick Cheney. Her husband, Carville, is a well-known liberal voice and has become one of the country's best-known Democratic political campaign consultants for his role in helping Bill Clinton win the presidency.
"This year's CEO panel and general conference sessions are our most diverse yet. The participation from high-level luminaries in both the policy, technology and business spheres will offer attendees well-rounded insights on our energy future from truly unique perspectives," said Julia Hamm, president and CEO of SEPA. "Our speakers have been carefully selected to provide a broad range of positions on the key issues facing our industry and we anticipate that the result will be inclusive discussions about the challenges and opportunities in bringing solar technologies to scale around the world."
In addition to the general sessions, the conference also features 200 expert speakers, more than 35 break-out sessions, and dozens of half- and full-day educational training workshops. The expo floor will showcase more than 1,000 exhibitors from around the world. Featuring all solar technologies and all parts of the solar supply chain, the expo floor will be segmented by product category, making the show easy to navigate for businesses looking to build and expand relationships.
"The solar industry is experiencing explosive growth and is a bright spot in our economy, creating jobs in all 50 states across the nation, and we are poised to do more with smart policies on the national and state level," said Rhone Resch, president and CEO of SEIA. "Solar Power International continues to be the critical forum for solar industry stakeholders to exchange knowledge with their peers and build strong business relationships."
Key Industry Announcements and Events
• Just before SPI opens, The Solar Electric Power Association (SEPA) releases its "Utility Solar Business Models: Developing Value in Solar Markets" Report. Utilities are critical players in emerging U.S. solar electricity markets. In the last two years alone, utilities have announced almost 800 megawatts of utility-owned solar projects in various stages of development worth over $2.5 billion. SEPA's new report looks at these and other industry and customer programs that provide added utility value in the solar marketplace, and analyzes the regulatory and business issues that are emerging. For more information, visit www.solarelectricpower.org.
• Through the support from SEIA and SEPA, the Solar Foundation releases the new U.S. Solar Jobs Census report, the first definitive study of the U.S. solar jobs market, on Oct. 13. Research will showcase the number and types of U.S. jobs in the solar industry and expected growth as reported by more than 2,400 companies operating in the U.S. For more information, visit www.thesolarfoundation.org.
• SEIA and GTM Research kick off regular reporting of quarterly solar industry data with the release of a new 2010 mid-year report on Oct. 12. The 12-page executive summary will show robust growth of installed solar energy in the U.S. for 2010, highlighting all market segments and technologies, top states and forecasts. Detailed summaries and full reports will be available for purchase at www.seia.org.
• Unity College in Maine presents its documentary, "A Road Not Taken," on Oct. 12 at 11 a.m. PDT in LACC Room #411. Chronicling the story of solar thermal panels, which U.S. President Jimmy Carter put on the White House in 1979, the film shows what happened when U.S. President Ronald Reagan took them down and where the panels ended up. To see the trailer, visit www.youtube.com/watch?v=v9VD6MdEt0U&ap=%2526fmt%3D22.
• Although the focus of Solar Power International is business-to-business interaction, the conference presents the ever-popular "Public Night," a free opening of the expo floor to local residents on Wednesday, Oct. 13, 5:30 - 8:30 p.m. PDT. Designed to educate members of the public eager to learn about the latest solar technology for the homes and businesses, Solar Power International's Public Night is a tradition and includes access to educational sessions designed for end users and access to the SPI Job Center. For more information visit www.solarpowerinternational.com.
The Solar Electric Power Association (SEPA) is comprised of over 700 utilities and solar industry members. From national events to one-on-one counseling, SEPA is the go-to resource for unbiased and actionable solar intelligence. Breaking down information overload into business reality, SEPA takes the time and risk out of implementing solar business plans and helps turn new technologies into new opportunities. For more information, visit www.solarelectricpower.org.
Solar Energy Industries Association Established in 1974, the Solar Energy Industries Association is the national trade association of the U.S. solar energy industry. Through advocacy and education, SEIA is working to build a strong solar industry to power America. As the voice of the industry, SEIA works with its 1,000 member companies to make solar a mainstream and significant energy source by expanding markets, removing market barriers, strengthening the industry and educating the public on the benefits of solar energy. www.seia.org
Featured Product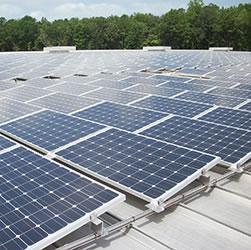 The Power Rail™ Commercial Mounting System is designed with the professional PV solar installer in mind. Both the XD/UD and LD/MD rails feature single tool assembly with the revolutionary patented RAD™ Lock-in-Place bolt for fast and secure module clamping. The high strength marine-grade aluminum rails include an integral wiring channel for securing cables and providing a professional finish.