SEMA held a successful meeting on Wednesday, September 22, 2010 at Flextronics Inc.'s campus in Milpitas, CA.
The Solar Engineering & Manufacturing Association (SEMA) held a successful meeting on Wednesday, September 22, 2010 at Flextronics Inc.'s campus in Milpitas, CA. Ms. Paula Mints of Navigant Consulting gave an extensive assessment of the current status of the solar power industry, outlining key successes and challenges. The drive to reduce costs, understanding supply and demand forecasts, and highlighting certain reliability issues all were included in her presentation on addressing the challenges and opportunities in the industry.

Also at the meeting, Matthew Holzmann, President, and Jasbir Bath, Vice President, outlined numerous key organizational milestones achieved by SEMA. The Association has made significant progress in the development of its technical program, including a conference to be held in February 2011 in California's Bay Area.
With a rising demand for more data and information on long-term reliability of solar modules and inspection standards, the organization already has received a great deal of excellent input for subject programs for the technical conference, including reliability of solar modules and the development of solar educational courses, and is confident that it will have a strong technical program for the conference that will benefit the solar industry greatly.
For further information, visit www.solar-ema.org, or contact Matthew Holzmann at matt.holzmann@solar-ema.org or Jasbir Bath at jasbir.bath@solar-ema.org.
For further inquiries, please contact:
Matthew Holzmann
President
SEMA
3617 W. MacArthur Blvd.
Santa Ana, CA 92704, USA.
714-979-7500
Featured Product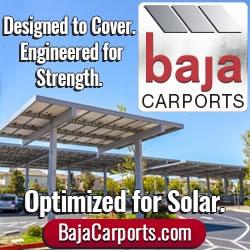 Baja Carports offers an extensive solar support system product line customized to customers' site specifications by in-house engineers, meeting their parking lot coverage, plus optimal PV production needs. Baja's Full Cantilever Tee is often paired with its Semi and Full Cantilever carports to meet live/loads up to 60psf and wind speeds to 160mph. All Baja products are pre-fabricated, bolted connections, pre-galvanized structural steel for fast on-site installation and project aesthetic requirements."