SolarBOS adds 100 and 200 amp Disconnect Combiners and increases number of inputs to 36 circuits.
SolarBOS is pleased to announce the addition of 100 and 200 amp disconnects to our popular Disconnect Combiner box product line. The complete range of solutions now includes 55, 100, 150, 200 and 245 amp disconnects, and these can be specified with up to 36 input circuits in NEMA-3, 3R, 4 and 4X enclosures.

SolarBOS Disconnect Combiners incorporate an integrated 600 VDC load-break switch into the combiner box, allowing system integrators to greatly simplify the design and installation of a PV system.
Configure Disconnect Combiners to match your project with our "product configurator" at http://www.solarbos.com/products.php?cat=54&prod=14
Featured Product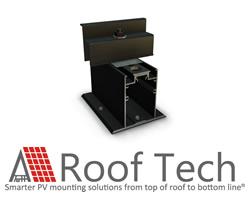 The most compact versatile rail-less PV mounting system under the sun. Instead of placing solar panels on top of long rails, simply attach E Mount AIR to rafters or the roof decking. Once panels are fastened to the roof, the system array is electrically bonded. The result is a visually seamless PV installation that stands the test of time. - Truly "One With The Roof". - PE stamped cert. letters available, UL 2703 Classified, ASTM 2140 fully waterproof. The one and only with integrated flexible flashing certified by the ICC! All the best quality. Only from Roof Tech