The Spanish multinational MECASOLAR has opened a new manufacturing facility in the Canadian city of Wallaceburg (Ontario ), adding to its existing factories in California,Greece and Spain.
In MERCASOLAR"s new Canadian centre- which will reach a production capacity of 8,000 solar trackers annually-, the company will manufacture both 2-axis solar trackers and the latest generation of 15 kW, 1-axis trackers. All of which are compliant with the Canadian Electrical Code.

From Wallaceburg, the company will supply customers both in Ontario, and the states of the northeast of the United States such as Ohio, Michigan, Pennsylvania, Indiana and Illinois, among others, given their proximity to the U.S. border. For the moment it has orders to be delivered to customers early next November.
According to MECASOLAR the opening of the new factory is due, in addition to the good results obtained by this delegation and the factory in California. With promising market prospects in Canada, levels are expected to reach 350-400 MW for solar installations in 2011, of which MECASOLAR aims to have 10% of the ground facilities.
The opening of the manufacturing facility in Ontario-Wallaceburg will also provide their local customers a significant competitive advantage: since the products are made from Canadian steel, assembled in Canada and subcontracting is from local suppliers, they meet the requirements of "Canadian content", thus allowing customers to have better rates, as they may request the maximum feed-in tariff for ground solar systems. This will provide a competitive advantage for MECASOLAR products because it is the only international company in the field of solar trackers which has a manufacturing facility in Ontario.
Noteworthy is the fact that the official presentation of the trackers took place in the presence of various customers and installers in Ontario. The product was received by the market with great interest and excitement, with more than a hundred people in attendance at the event, who were able to see from themselves in-situ the advantages of MECASOLAR trackers.
Similarly, MECASOLAR-through its Qualified Installers Network PROINSO-will have a team of companies in Canada able to install their products in an approved and qualified manner. Currently, the company has 5 qualified installers in the country, but their expectation is to have some twenty installers who can sell and install their products. At present, the Network of Qualified installers of PROINSO-exclusive distributor of MECASOLAR products has already totalled some 1,004 firms worldwide approved.
MECASOLAR already has a current track record for 2010 of 282 MW accumulated in tracker installations throughout the world, a figure which is equivalent to the manufacture and start up of more than 22,000 solar trackers in countries such as the United States, Greece, Italy, Germany, France or Spain, among others. The Spanish company has achieved leadership in its sector in Spain and Italy, where it is the absolute leader.
Featured Product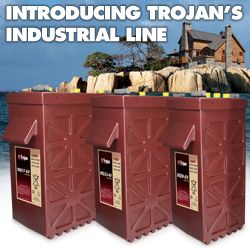 Trojan's deep-cycle batteries provide rugged durability, outstanding performance and long life for use in all types of solar energy installations. With over 90 years of experience, Trojan delivers the world's most reliable and trusted batteries in flooded, AGM, Gel, and Lithium types. These batteries enable solar equipment systems to operate at a peak level of performance in the harshest conditions or the most challenging of locations and are manufactured and tested to IEC standards.