AWS Truepower Data Fuels Recent NREL and NYSERDA Offshore Assessments; Company's New Offshore Prospecting Capabilities on Display at AWEA Offshore Conference, October 5-7
ALBANY, NY—October 5, 2010—AWS Truepower, LLC, an international leader in renewable energy consulting and information services, is reporting widespread demand for its offshore data and assessment expertise, including recent collaborations with The National Renewable Energy Laboratory (NREL) and the New York State Energy Research and Development Authority (NYSERDA). To discuss these projects, several of the company's top executives will be on site at the AWEA North American Offshore Wind Conference & Exhibition, where they will also serve as featured presenters. The conference, taking place October 5-7 in Atlantic City, NJ, will include demonstrations of AWS Truepower's rich new offshore prospecting data and capabilities at Booth #206.

AWS Truepower arms influential agencies like NREL with high-quality offshore wind data to conduct nationwide studies such as the recent assessment that determined the U.S. has 4,150 gigawatts (GW) of offshore wind power potential. NREL's analysis report, "Assessment of Offshore Wind Energy Resources for the United States" features wind maps produced with AWS Truepower offshore data and can be found at www.nrel.gov/docs/fy10osti/45889.pdf.
AWS Truepower also recently announced an expanded relationship with NYSERDA, including a newly published research collaboration regarding the potential for renewable energy development in the Great Lakes region. Commissioned by NYSERDA, the AWS Truepower study reinforces the viability of New York's Great Lake waters as a resource for offshore wind production. The full report can be accessed at http://www.nyserda.org/publications/10-04_offshore_wind.pdf.
"U.S. waters contain a wealth of offshore development potential as evidenced, among published studies, by our work with NREL and NYSERDA--these two recent examples supporting the importance of accurate, science-based intelligence to properly assess offshore wind resources," said Bruce Bailey, president and CEO at AWS Truepower. "We are excited to offer on-demand access to our newest repository of rich offshore data, to our vast customer base of utility-scale developers, utilities, manufacturers, government agencies, academic, non-profit and advocacy groups, helping them quickly analyze and prioritize business opportunities."
Users of AWS Truepower's industry-leading wind prospecting and resource analysis application, windNavigator, will now be able to benefit from the company's offshore expertise as well. Available immediately, AWS Truepower has developed a comprehensive offshore dataset for use within windNavigator 2.2.2, the primary platform for delivering its information-rich products. The first web-based application to enable the purchase of 200-meter resolution wind resource grid (WRG) data, users can now leverage the windNavigator 2.2.2 siting and assessment tool to easily conduct initial project design work for offshore wind projects with on-demand, high-resolution offshore wind data. New features include:
• Available map from the Florida-Georgia border to the Maine-Canada border
• Mapped from coastline, 50 nautical miles off the coast
• Click speeds available by subscription
• windNavigator Compass information
• All data will be available for purchase, including wind resource grid files and reports
AWS Truepower will further highlight its offshore expertise with multiple presentations at AWEA's upcoming North American Offshore Wind Conference & Exhibition 2010. The complete list of AWS Truepower's speaking sessions follows.
Date: Tuesday, October 5, 2010
Time: 1:00 p.m. - 3:00 p.m. ET
Presentation: Resource Assessment and Design Conditions for Offshore Wind Energy Projects: An Industry Perspective
Location: Atlantic City Convention Center, Room 403
Speaker: Bruce Bailey, President/CEO, AWS Truepower, LLC
Date: Wednesday, October 6, 2010
Time: 1:30 p.m. - 3:00 p.m. ET
Presentation: Comparison of Environmental Conditions Between Offshore Sites in Europe and United States
Location: Atlantic City Convention Center, Room 303
Speaker: Jeffrey Freedman, Senior Research Scientist, AWS Truepower, LLC
Date: Wednesday, October 6, 2010
Time: 5:00 p.m. - 6:00 p.m. ET
Presentation: An Assessment of Wind and Load Coincidence for Offshore EWITS Project Sites
Location: Atlantic City Convention Center, Room 201/202
Speaker: Whitney Wilson, Project Engineer, AWS Truepower, LLC
Date: Wednesday, October 6, 2010
Time: 5:00 p.m. - 6:00 p.m. ET
Presentation: Innovative Approaches to Offshore Wind Resource Assessment: Block Island Case Study
Location: Atlantic City Convention Center, Room 201/202
Speakers: Clint Plummer, Vice President - Development, Deepwater Wind
Matthew V. Filippelli, Senior Engineer, AWS Truepower, LLC
For members of the media interested in meeting with AWS Truepower onsite at the event, please contact Tiffany Archambault at 781-684-0770 or awstruepower@schwartzcomm.com.
windNavigator 2.2.2 Pricing and Availability
windNavigator 2.2.2 is available immediately to all subscriber levels. Pricing varies by subscription. A menu of subscription package options for windNavigator high resolution wind reports, maps and data is available here. For more information, please contact the windNavigator support team at +1-877-899-3463 or visit www.windnavigator.com.
About AWS Truepower, LLC
AWS Truepower has been an international leader in renewable energy consulting and information services for over 25 years. AWS Truepower's suite of integrated services and innovative products support the full project lifecycle from resource and energy assessment, independent engineering, and due diligence, to performance assessment and power production forecasting. AWS Truepower's professional staff possesses in-depth knowledge and experience in all phases of project development, which ensures a consistent, integrated solution. AWS Truepower is online at www.awstruepower.com.
###
Featured Product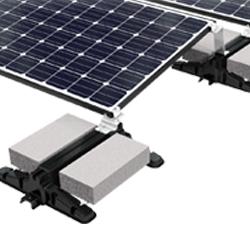 Preformed Line Products introduces the POWER MAX Ballasted Roof Mounting System. The POWER MAX solar mounting system is engineered to maximize energy output on commercial flat roofs. Developed with the professional installer in mind, this system offers adjustable inter-row spacing in the field of up to 11 inches. It features 50% fewer components and a simplified design resulting in faster assembly rates and labor savings on every project. Available in a flush mount, 5Ëš or 10Ëš tilt or higher density dual tilt design, the POWER MAX base arrives stacked on pallets providing easier transport to the roof. Engineered as a fully ballasted, non-penetrating system, it accepts standard concrete blocks and is qualified by wind tunnel testing.