May be public private partnerships are the best way to set up such charging infrastructure. In an EU-funded project we are investigating that question. Please help by filling in this questionaire. http://www.surveymonkey.com/s/PPP_BEVs
There are several options for implementing policies to drive into the direction of solar mobility or more general electric mobility ustilising renewable resources. Nowadays some countries are rolling out large infrastructure on their own like Israel - others rely on private investments solely. Is there a way in between? Yes we think so: Public Private Partnerships allow a bundle of measures in the different elements of implementing clean energy projects and bringing that to the vehicles. Whilst energy production is may be on the private and utility side - expensive charging infrastructure or the vehicles themselves may be implemented using PPP. Please help us to complete the picture which already is explained in this questionnaire.

http://www.surveymonkey.com/s/PPP_BEVs
Many thanks in advance
Featured Product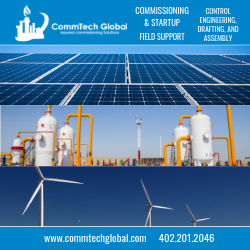 CommTech Global Solutions, LLC, provides professional and reliable commissioning services to customers in all realms of the energy industry. We blend our skills in engineering and technology with innovative business models, offering a complete range of services to assist you for a successful and in compliance operational startup. Consolidation of all our service domains gives our clients a comprehensive set of expertise and far-reaching experience on each project.