Funding to Fuel Company's Accelerated Growth with Focus on Production Capacity Increase and Market Expansion
Hod Hasharon, Israel, October 4, 2010 - SolarEdge Technologies, a leading provider of end-to-end Distributed Solar Power Harvesting and monitoring solutions, has secured US$25 million in funding, with Lightspeed Venture Partners leading the equity financing. This round of financing also includes participation from existing investors Opus Capital, Genesis Partners, Walden International, ORR Partners, Vertex Venture Capital and JP Asia Capital Partners.

"SolarEdge has received wide market acceptance in the solar inverter domain within a very short time frame. We will use this financing to further accelerate our growth to meet the soaring demand for our products worldwide, and intensify local sales and support activities in all major markets," said Guy Sella, Chairman, CEO and Co-Founder of SolarEdge. "The funding will enable us to multiply our production capacity without compromising on quality and reliability."
The SolarEdge PV (Photovoltaic) power harvesting solution includes PowerBoxes, which are module-integrated power optimizers, solar inverters and a module-level PV monitoring portal. This unique solution enables production of up to 25% more energy from any PV installation and a faster return on investment. In the past year SolarEdge has expanded its product portfolio, established mass production lines and global delivery infrastructure, partnered with leading PV module manufacturers, integrators and distributors worldwide, and generated significant sales growth. This extraordinary momentum has strengthened SolarEdge's position as the leader in PV power optimizing.
"Our investment in SolarEdge reflects our confidence in the company's leading market position and growth prospects," said Yoni Cheifetz, Partner at Lightspeed Venture Partners. "SolarEdge has pioneered a transformation in the solar industry, and has exhibited excellence in maturing its innovation into a reliable, mass-produced solution, sold worldwide."
About SolarEdge
SolarEdge provides the world's first end-to-end Distributed Solar Power Harvesting and PV Monitoring solution, allowing maximum energy production and a faster return on investment. The SolarEdge PowerBoxes™ are DC-DC power optimizers that perform MPPT per individual panel while monitoring performance of each panel and communicating across existing power lines. Moreover, PowerBoxes always maintain a fixed DC string voltage, allowing optimal efficiency of the SolarEdge solar inverter, which is tailor made to work with power optimizers. As a result, the SolarEdge system provides more power from any given PV system installation, eliminates design constraints, provides complete panel-level and whole-system visibility for monitoring and maintenance alerts, solves safety hazards and provides anti-theft mechanisms, all while reducing the cost of energy. The company works with industry-leading partners to embed its active electronics directly into PV panels. SolarEdge is online at http://www.solaredge.com.
Featured Product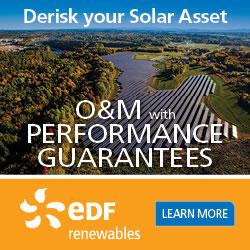 EDF Renewables offers the same innovative solutions that maximize the performance of our own 5.2 GW of installed projects. Because we're not an equipment manufacturer, our recommendations are transparent and data-driven. We cover the entire project lifecycle: from pre-commissioning support, through warranty and post warranty operation, to late stage and decommissioning.