The NGN Forum™ announced today that it has launched a Smart Energy Forum™ which will focus on IP services used to power the smart grid, home grids and alternative energy sources such as wind and solar.
Denver, CO - October 5, 2010 - The NGN Forum™ announced today that it has launched a Smart Energy Forum™ which will focus on IP services used to power the smart grid, home grids and alternative energy sources such as wind and solar. The NGN Forum will focus its activities on the two main areas going forward:

• Next Generation Communications, and
• NGN Energy Applications
"Utility companies have traditionally developed their own networks and communications systems," said Michael Khalilian, Chairman & President, NGN Forum. "However, they are now looking toward the telecommunications industry for apps, technology development, and OSS/BSS/Security to help them manage consumer demand. A number of major telecom operators and vendors are driving the initiative to expand into the highly lucrative energy management and applications field."
According to Smart Grid News, the US smart grid industry is valued at about $21.4 billion. By 2014, it is projected to exceed $42.8 billion. The world market is expected to grow at a faster rate, surging from $69.3 billion to $171.4 billion by 2014. The American Recovery and Reinvestment Act allocates billions of dollars for energy projects including $4.5 billion to modernize the electric grid. Other major government initiatives that will increase telecom-related funding include $7.2 billion in broadband deployment grants administered by the National Telecommunications and Information Administration (NTIA) and the Rural Utility Service (RUS).
"By ensuring that the Smart Grid is effectively managed, protected and secured, we will help speed its overall adoption by increasing confidence in the reality of these visionary solutions," said Doug Havas, vice president of communication industries at Symantec.
Under Next Generation Communications the Forum will continue to focus on IMS, SDP, 4G, VoIP, RCS/RMS, IP Video, IP Billing, IP Security, and the Forum's Interoperability/Plugfests.
The Smart Energy Forum will focus on NGN Energy Applications and NGN communications services for Smart Grid and Renewable energy apps such as security, billing and integration services. It will explore all types of energy apps that employ IP services for smart metering, billing and transport of energy. The Smart Energy Forum will develop guideline documents to help guide the industry in its adoption of this technology as well as enhancing NGN / IMS Interoperability and its Plugfests to include Smart Energy apps requirements.
Initial member companies involved in the new Smart Energy Forum include:
• Alcatel-Lucent • Wipro Technology
• Aricent • Sonus Networks
• D2 Technologies • Sprint
• Dept Of Energy-NAVARRO-NREL • Symantec
• Hewlett Packard (HP) • Tech Mahindra
• Marben Products/NE Technologies • Telcordia
• Mu Dynamics • T-Mobile
• RADVISION
"Machine-to-machine technologies, including Smart Meters in the utility market, present an attractive opportunity for service providers," said Nigel Upton, director, Communications and Media Solutions, HP. "The Smart Energy Forum can help HP customers, who are already making inroads in this market, using BSS/OSS solutions that have been battle-tested in telecom."
"The Smart Energy forum shall play an important role bringing together telecom operators, utilities companies and companies like ourselves involved in design and development of smart energy communications core and smart home applications" said C.P.Murali, senior vice president at Aricent®. "We are pleased to offer our vast experience in interoperability testing, NGN and wireless system design to empower the smart energy forum to overcome these challenges."
The Smart Grid is comprised of the integration of two networks: the electrical transmission & distribution network and the IP communications network. Smart Grid technologies help improve power reliability through smart devices and applications that adapt in real-time to consumer demand and environmental conditions. Governments are promoting this sophisticated electricity network as a way to address energy independence, global warming and emergency resilience issues. Smart Grids will also require a higher level of Security because they link large and small utilities and individual customer product data, which requires advanced IP addressing protocols such as IPv6. Some of the largest hurdles yet to be overcome are the storage of energy in off-peak usage hours and the development of adequate management systems for the smart grid.
"One can draw parallels from the optimizations employed within large, nationwide, IP communications networks, such as moving traffic over the links with least cost, and handling overload and overflow conditions," commented Mehdi Ghasem, vice president of strategy for Sonus Networks. "As the leader in building and managing some of the largest IP voice networks in the world, Sonus is pleased to lend its expertise to this forum to ensure that the best practices are employed in developing the Smart Grid."
"There is much more work to be done to overcome challenges around Smart Grid implementation strategies, which include developing interoperability standards and protocols," said Suresh Bhandarkar, NGN IMS Board member and Director of Technology, Tech Mahindra. "The Forum welcomes the telecom and utility industries to become more involved in helping us move the smart energy industry forward in the interest of both the telecom and the utilities industries."
About the NGN ForumTM
The NGN Forum is the premier global telecommunications association devoted to Next Generation Networks and Communications (NGN & NGC) service delivery and interoperable IP Multimedia Subsystem (IMS) services architectures and solutions including Smart Energy / Smart Grid. The Forum's mission is to accelerate the interoperability of NGN, IMS and Smart Energy services and to enable enterprise and residential consumers to benefit fully from the delivery of all-IP M-playTM/rich multimedia, mobility, M2M, cloud computing, and fixed services over wireline, cable, GSM, UMTS, Wi-Fi, 4G (WiMAX / LTE), power line/smart meters and fiber broadband networks. The Forum is the creator and organizer of the IMS PlugfestsTM and NGN PlugfestsTM, the industry's only events focused on verification and certification of IMS and NGN service interoperability through the IMS CertifiedTM and NGN CertifiedTM programs.
Through organized Plugfests, technical working groups and other activities, Forum members develop cost-effective technical frameworks for revenue generating converged IP NGN solutions. The combined organizations include over 2000 executives and technical, business development and marketing professionals from global and emerging equipment vendors, solution providers, integrators, service providers, and governmental agencies. For additional information or to join the NGN Forum, Smart Energy Forum, the IMS Plugfest, and NGN Plugfest, please visit www.NGNforum.org or www.SmartEnergyforum.org.
For Further Information contact NGN & Smart Energy Forum Media Relations:
Cathy Clarke
CNC Associates
O: 508-833-8533
M: 617-527-2089
PR@NGNforum.org
Featured Product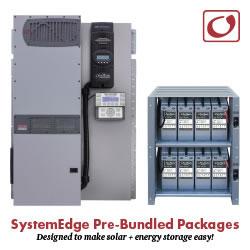 Each pre-bundled package is designed to make solar plus energy storage easy. By combining OutBack's most popular FLEXpower pre-wired systems with matched OutBack energy storage, SystemEdge takes the guesswork out of installing solar plus storage. Every SystemEdge package includes a FLEXpower factory pre-wired system, application-specific EnergyCell batteries and racking, FLEXware ICS Plus combiner and all the necessary connection hardware.