Photon etc. and the Institute for Research and Development of Photovoltaic Energy (IRDEP) in France have agreed to showcase Photon etc's Photovoltaic (PV) Hyperspectral Analyzer in order to demonstrate its performance and business value for the photovoltaic industry.
Montreal (October 6th, 2010) - Photon etc. and the Institute for Research and Development of Photovoltaic Energy (IRDEP) in France have agreed to showcase Photon etc's Photovoltaic (PV) Hyperspectral Analyzer in order to demonstrate its performance and business value for the photovoltaic industry.

The showcase is funded by the Ministère du Développement économique, de l'Innovation et de l'Exportation (MDEIE) of Quebec (Canada) and offers an opportunity for Photon etc. to market a new and innovative product. Potential customers will be able to test Photon etc's PV Hyperspectral Analyzer on site and thereby mitigate both technological and financial risks related to the purchase of a new characterization system.
Photon etc. and IRDEP have jointly developed the PV Hyperspectral Analyzer in order to produce a highly efficient reflectance and photoluminescence spectral imaging system. This product brings new possibilities to developers and producers of thin film PVs, which are more complex than crystalline silicon technologies. Current emphasis is on copper indium gallium diselenide (CIGS) family of compounds, but the system is applicable to most heterogen materials.
Photon etc's president, Sébastien Blais-Ouellette, says that "thanks to this technology showcase funded by MDEIE, we will be able to demonstrate not only theoretical concepts, but empirical results obtained in real conditions. These results will help convince other laboratories and manufacturers of the benefits provided by the system".
This technology showcase will set a standard for a new type of PV Hyperspectral Analyzer for thin film technologies. As Bernard-Alexandre Gaulin, Photon etc's Director of Sales and Marketing, explains: "the demand for such analyzers is growing and there is still no product ready on the market. It is an exceptional opportunity for Photon etc. to be a leader in the development of thin film PV characterization and quality control systems".
The high sensitivity of the analyzer allows each component of the PV material to be characterized for assessing the properties of individual cells. For research and development, this will lead to a better understanding of the thin film PV structure and allow optimization of fabrication processes. In a production setting, the PV Hyperspectral Analyzer offers precision quality control to enable default tracking early in the process. The Photon etc's analyzer thus offers potential for analysing PV cells both in the production line and in the laboratory, thereby significantly increasing yield.
###
About IRDEP
IRDEP is a joint research unit founded in 2005 by Electricité de France (EDF) R&D, the Centre National de la Recherche Scientifique (CNRS) and the Engineering School Chimie-ParisTech. Its originality lies in the synergies created between its academic and industrial components to promote innovative developments in the field of photovoltaics, from fundamental breakthroughs to proof-of-concept devices.
About EDF Group
The EDF Group, one of the leaders in the energy market in Europe, is an integrated energy company active in all businesses: generation, transmission, distribution, energy supply and trading. The Group is the leading electricity producer in Europe. In France, it has mainly nuclear and hydraulic production facilities, where 95% of the electricity output involves no CO2 emissions. EDF's transport and distribution subsidiaries in France operate 1,285,000 km of low and medium voltage overhead and underground electricity lines, and about 100,000 km of high and very high voltage networks. The Group is involved in supplying energy and services to 38 million customers around the world, including nearly 28 million in France. The Group generated consolidated sales of €66.3 billion in 2009, of which 49% were derived from European countries outside of France. EDF is listed on the Paris Stock Exchange and is a member of the CAC 40 index.
About Photon etc.
Photon etc. offers state-of-the-art photonic and optical research instrumentation. Its patented spectral imaging and optical sensing technologies provide solutions for a wide variety of scientific and industrial applications. From material analysis to medical imaging, Photon etc's expertise and spirit of innovation allow the exploration of uncharted territories.
Contact - Photon etc.
Bernard-Alexandre Gaulin
Director of Sales & Marketing
bagaulin@photonetc.com
Tel + 1 (514) 385-9555 ext. 115
Fax + 1 (514) 279-5493
Featured Product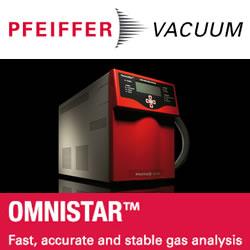 The Pfeiffer Vacuum OmniStar benchtop analysis system offers you a compact footprint, powerful software and Ethernet connectivity. It's the optimum solution for many real-time gas analysis applications. With the OmniStar, Pfeiffer Vacuum offers you a complete solution for gas analysis, in chemical processes, semiconductor industry, metallurgy, fermentation, catalysis, laser technology and environmental analysis. The turnkey OmniStar gas analysis system consists of heated, temperature-regulated gas inlet system, Quadrupole mass spectrometer, a dry diaphragm vacuum pump and HiPace turbopump. Unlike competing methods such as FTIR, OmniStar is suitable for qualitative and quantitative analysis of most gases.