PV Evolution Labs Closes Funding to Develop North America's Premier Solar Panel Reliability and Performance Lab: State-of-the-Art Facility in San Francisco Will Serve Critical Need in Growing Solar Industry
PV Evolution Labs (PVEL) today announced it has closed funding to develop North America's premier solar panel reliability and performance laboratory. An independent, high-throughput testing facility located in San Francisco, PVEL's specialized capabilities include state-of-the-art environmental, mechanical, and electrical stress and characterization systems.

"Reliability testing laboratories can be a financial drain on any solar company," said Jenya Meydbray, PVEL Co-Founder and Chief Executive Officer. "PVEL enables solar panel technology developers to focus on R&D without the need to build and manage complex and expensive in-house reliability testing facilities. Much like the fabless manufacturing model provides semiconductor IC designers a non-competitive supply chain partner, we are thrilled to offer the industry's first Labless Solar Development opportunity."
PVEL was founded on the principle that understanding solar panel aging behavior through careful and rigorous testing is a fundamental aspect of safety, cost reduction, and reliability. In becoming a non-competitive supply chain partner across the entire value chain, PVEL is committed to increasing photovoltaic product quality while reducing product time to market and facilitating solar panel bankability.
With over 85 years of collective experience innovating in the solar industry, the PVEL team has unique insights into the needs of the industry. By providing a world-class testing lab for solar panel manufacturers, certification agencies, and project developers, PVEL will enhance standards and credibility in the solar PV marketplace through its independent, unbiased third party assessment.
"By focusing solely on a single product form factor, PVEL has designed the most repeatable and efficient systems", says Rajeev Singh, PVEL Co-Founder and Chief Technology Officer. "With a combination of indoor and outdoor facilities, our customers benefit from our unique comprehensive PV module performance evaluation services. This includes long-term reliability demonstration, mechanical and electrical characterization, and precision energy yield evaluation in our grid-connected solar power plant."
About PVEL
Headquartered in San Francisco, PV Evolution Labs (www.pvel.com) is accelerating the development of the solar industry by providing world-class laboratory facilities and PV module testing expertise to the growing solar R&D, certification, and financial services sectors. With state-of-the-art testing systems designed specifically for the flat plate PV module form factor, PVEL ensures the quality and turnaround time necessary to enable the solar industry to achieve the growth rate required to impact how America generates energy.
# # #
Featured Product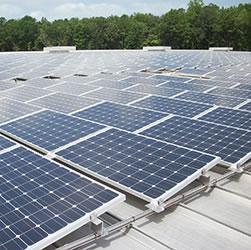 The Power Rail™ Commercial Mounting System is designed with the professional PV solar installer in mind. Both the XD/UD and LD/MD rails feature single tool assembly with the revolutionary patented RAD™ Lock-in-Place bolt for fast and secure module clamping. The high strength marine-grade aluminum rails include an integral wiring channel for securing cables and providing a professional finish.