The Company's Award-Winning LED Lighting Fixtures Selected as a Key Green Material for Green Buildings
Redwood City, Calif. - Lunera Lighting, Inc., a Silicon Valley company that designs, manufactures, and markets next-generation LED lighting, today announced that it has been named a Premier Private GreenTech Company in AlwaysOn's GoingGreen Silicon Valley 100.

This year's GoingGreen Silicon Valley 100 Top Private Companies list is characterized by companies weathering stormy economic weather through innovative business models, multinational partnerships, and creative use of government incentives. Hundreds of companies were assessed to determine the breakthrough potential of their technologies, market size, management team, and investors.
Lunera was selected by the judging panel in the category of Green Materials and Green Building. Lunera's 2200 Series Grid Lay-in and 6400 Suspended Linear LED fixtures are rapidly gaining adoption across the country in both commercial real estate tenant improvement and new commercial construction projects.
The easy-to-install fixtures deliver energy savings out of the box - savings that can be significantly amplified with the addition of smart building controls. Lunera's award-winning fixtures have earned a reputation for quality, both in fixture design/construction and in the daylight-quality light they emit.
For more information about Lunera products, visit http:/www.lunera.com.
About Lunera Lighting
Lunera Lighting is an award-winning technology innovator leading the transformation from analog to energy-efficient digital LED lighting. Manufactured in the USA, Lunera's premium lighting fixtures are particularly attractive when seeking LEED certification, since LED lighting substantially impacts LEED points in "green" buildings. The company is also a firm believer in social and environmental responsibility and has made it part of their corporate philosophy. Visit http://www.lunera.com for more information or contact Lunera at 650-241-3875 or by email at info@lunera.com.
© 2010 Lunera Lighting, Inc. All rights reserved. Specifications are subject to change without notice. Lunera® is a registered trademark of Lunera Lighting, Inc., The Lunera logo and Life in a New Light are trademarks of Lunera Lighting, Inc. All other trademarks are the property of their respective companies.
Featured Product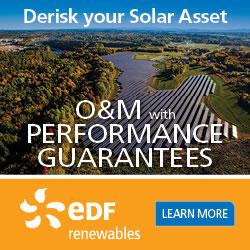 EDF Renewables offers the same innovative solutions that maximize the performance of our own 5.2 GW of installed projects. Because we're not an equipment manufacturer, our recommendations are transparent and data-driven. We cover the entire project lifecycle: from pre-commissioning support, through warranty and post warranty operation, to late stage and decommissioning.