New services further reduce gas and electricity bills, allow SolarCity to offer customers greatest net savings of any full-service solar offering in the industry
FOSTER CITY, Calif., Oct. 11, 2010—SolarCity® today announced a new SolarLease® option, the first to combine solar services and energy efficiency services. SolarCity will now provide customers that lease or purchase solar systems with a Home TuneUp, a detailed home efficiency evaluation and a package of energy-saving home improvements and repairs. SolarCity has also developed new evaluation software that customizes a Home TuneUp for each home based on the solar and energy efficiency services that deliver the best return on the homeowner's investment. The Home TuneUp can include air and duct sealing, pipe insulation, a programmable thermostat and efficient lighting, and will be included at no additional cost with a solar lease or purchase for a limited time. SolarCity is also rolling out a wider range of efficiency upgrades including attic insulation, efficient water heating and efficient air heating/conditioning.

The SolarCity offering is expected to be the largest-scale rollout of integrated solar and energy efficiency services in the U.S. to date. SolarCity's new efficiency services can reduce customers' gas and electricity bills by an additional 10 - 50 percent on top of the savings they will see from solar installation alone, and make their homes more comfortable and healthier by improving air quality. The addition of energy efficiency services allows SolarCity's solar offerings to deliver greater net savings than any other full-service solar offering available today.
Based on its own efficiency evaluations of 250+ homes and statistics from the U.S. Department of Energy, SolarCity estimates that the typical U.S. homeowner loses approximately $40 of every $100 spent on air heating and cooling to duct and air leakage alone.[1],[2] A July 2009 study from McKinsey & Company suggests that energy efficiency improvements in the U.S. could generate more than $1.2 trillion in energy savings in the next ten years if they are enacted on a large-scale basis, but that upfront cost remains a primary barrier to consumer adoption[3]. SolarCity pioneered the residential solar lease, which can eliminate solar's upfront cost and make it possible for homeowners to pay less for solar power than they previously paid for electricity. SolarCity expects that by integrating solar and energy efficiency retrofits and making them more affordable, it can encourage more homeowners to make efficiency improvements, and realize associated financial, health and environmental benefits.
SolarCity provides several services to improve air quality and reduce air borne particulates through efficiency upgrades to the filtration for forced air systems, duct sealing and air sealing. By fixing leaks and limiting the amount of poor quality air coming in through a garage, crawl space or attic, SolarCity's energy efficiency services can significantly improve indoor air quality.
"Energy efficiency improvements save homeowners money, significantly reduce the symptoms of allergies and asthma, and keep a home warmer in winter and cooler in summer," said Peter Rive, SolarCity's co-founder and chief operations officer. "We believe that if we can make it cost less to have an energy efficient home, far more homeowners will choose that option."
SolarCity's SolarLease with Home TuneUp option is available in California today, and the company will be rolling out the offer to its additional territories in the next eight weeks. For more information about SolarCity's energy efficiency services please visit http://www.solarcity.com/residential/efficiency/default.aspx.
About SolarCity
SolarCity®—a national leader in solar power system and energy efficiency design, financing, installation, monitoring and related services—was founded with the mission to help millions of homeowners and businesses adopt clean power, protect themselves from rising gas and electricity costs and protect their environment from polluting power sources. The company's SolarLease® and Power Purchase Agreement (PPA) options can make it possible for homeowners and businesses to switch to clean, solar power for less money than they currently pay for electricity. SolarCity currently serves more than 1,000 communities in Arizona, California, Colorado, Oregon and Texas. Additional information about the company is available on the Web at www.solarcity.com.
Media Contact
Jonathan Bass
SolarCity
650-963-5156
jbass@solarcity.com
# # #
Featured Product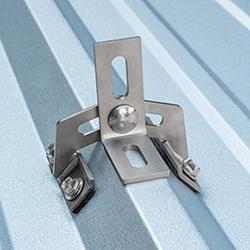 QuickBOLT Low Profile QuickBOLT with Microflashing™ is the industry's affordable, UL Certified Asphalt Shingle mounting system. The Microflashing™ is compressed by the collar on the bolt to create a water-tight seal. With an installation time of less than one minute, the Low Profile QuickBOLT allows installers to complete more jobs.