SunWize Selected as Samsung's North American Distributor
KINGSTON, N.Y.--(BUSINESS WIRE)--SunWize Technologies, the solar industry's leading wholesale distributor, has been selected by Samsung Electronics Co., Ltd. to introduce and distribute its solar modules to the North American market. The first Samsung solar module offered by SunWize is the LPC241SM, available for immediate delivery. SunWize will be exhibiting the LPC241SM at Solar Power International 2010 in Los Angeles, CA, October 12-14, at Booth 3911 in South Hall.

Samsung Electronics, a global leader in consumer electronics, semiconductor and display technologies, has been developing its solar cell production capabilities for several years and recently entered the marketplace. It has taken its manufacturing expertise in semiconductors and developed its own line of highly efficient monocrystalline solar cells and modules. Samsung chose SunWize as its distribution partner for the LPC line, and as the primary distributor of Samsung modules for the North American market.
The LPC241SM solar module stands out in today's marketplace with its 15+% module efficiency, higher than any other product in its class. It sets a new benchmark for price/performance and narrows the performance gap against premium priced modules. The superior PTC power density of the LPC241SM provides residential and commercial installers a competitive edge, as well as higher value to end-users in terms of cost per kWh. The quality of Samsung modules is evidenced by a world class peak power tolerance rating of -0%/+2%, guaranteeing full performance.
"We are excited to have been chosen by Samsung to launch their products into the North American market. Samsung is a prominent and well trusted consumer brand that will be quickly embraced by both installers and homeowners," states David Kulik, President and CEO of SunWize. "We look forward to a long partnership."
About Samsung Electronics
Samsung Electronics Co., Ltd. is a global leader in semiconductor, telecommunication, digital media and digital convergence technologies with 2009 consolidated sales of US$116.8 billion. Employing approximately 188,000 people in 185 offices across 65 countries, the company consists of eight independently operated business units: Visual Display, Mobile Communications, Telecommunication Systems, Digital Appliances, IT Solutions, Digital Imaging, Semiconductor and LCD. Recognized as one of the fastest growing global brands, Samsung Electronics is a leading producer of digital TVs, memory chips, mobile phones and TFT-LCDs. For more information, please visit www.samsung.com.
About SunWize Technologies
Since 1992, SunWize Technologies has been a leading global provider of cost-effective and dependable solar power solutions. SunWize has an experienced team of professionals that offers the largest product inventory in North America, an extensive line of pre-engineered systems and the broad capability of a design engineering staff. As a Mitsui & Co (USA), Inc. subsidiary, SunWize provides the technology, the expertise and the network to deliver reliable residential, commercial, government and industrial components and systems. The company operates manufacturing and distribution facilities on the east and west coasts and sales offices throughout the U.S. and Canada. For more information, call SunWize at (707) 326-5434 or visit www.sunwize.com.
Featured Product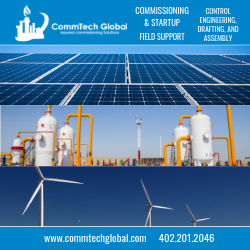 CommTech Global Solutions, LLC, provides professional and reliable commissioning services to customers in all realms of the energy industry. We blend our skills in engineering and technology with innovative business models, offering a complete range of services to assist you for a successful and in compliance operational startup. Consolidation of all our service domains gives our clients a comprehensive set of expertise and far-reaching experience on each project.