This year in Sevilla, on November 15 to 17, over 700 people will get together next month to network & discuss with other experts of the CSP industry.
Charles Rickter, Sr Vice President of BrightSource Energy (USA) will join a 50 strong expert line up of speakers. BrightSource Energy is an Israeli-American CSP tower company that will shortly begin construction on October 27th of the 392 MW project on public land.

Speaking exclusively at CSP TODAY SEVILLA, Mr Rickter will describe how a new company with an innovative CSP technology of power towers which directly generate high temperature, high pressure steam, have succeeded in permitting and financing the world's largest solar power project - the Ivanpah Solar Electric Generating Station.
The reliable, economical, stable, and dispatchable characteristics of BrightSource's technology played a critical role in securing the Power Purchase Agreements that made Ivanpah possible.
Over 50 speakers are due to speak at the event, including senior executives from ACS Cobra, Acciona, Abengoa, AREVA, Siemens, Torresol, Dii, Abener, CIEMAT-PSA, Flagsol, ENEL, Cargo Power and other leading developers and EPCs in the CSP industry.
This year, a dedicated expo will have more than 30 stands including leading service providers such as: AREVA, Siemens, Schubert & Salzer, DOW, Novatec Biosol, Rioglass, Hydro, Durferrit, SPX, Agencia IDEA, Foster Wheeler, Tyco, BK Aalborg, Albatros, Tekniker, Lainsa, Bosch Group, Samson, Sertemo, Hef-durferrit, Wika, Rioglass, Thermal Ingenering and many more
As well as a two days conference, the summit this year includes a site visit to the Lebrija I 50 MW parabolic trough plant (Siemens/Iberese) and 8 technical workshops that will take place twice and that are open for all the attendees.
For more information about CSP Today, the speakers, the attendees and the awards and the finalists, please visit www.csptoday.com/csp
Featured Product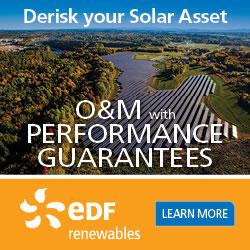 EDF Renewables offers the same innovative solutions that maximize the performance of our own 5.2 GW of installed projects. Because we're not an equipment manufacturer, our recommendations are transparent and data-driven. We cover the entire project lifecycle: from pre-commissioning support, through warranty and post warranty operation, to late stage and decommissioning.