If they're doing it, then maybe you should too.
Leading by example, Barack and Michelle Obama decided the White House lawn won't be the only green on the property. The first couple opted to install solar panels, which were donated by Sungevity, to the White House to support and demonstrate the importance of renewable energy.

The panels will produce partial electricity for the 55,000 square foot house as well as provide hot water for the first family.
Seeing as the sun could possibly produce 10 percent of the nation's power within the next 15 years, my fellow Americans might want to look in to solar energy. The Department of Energy (DOE) sponsors specific websites that assist people in making the switch as easy and painless as possible.
What's more? Going solar can save you money. The federal government offers a 30 percent tax credit for being environmentally conscious and will foot up to 65 percent of the upfront cost.
Rhone Resch, President and CEO of the Solar Energy Industries Association (SEIA), who owns a solar home, can attest that going green can save you cash saying, "I can speak from personal experience that taxpayers will benefit. In the four years since I've had solar on my house, I've gotten a better return on my solar system than on my 401(k)."
Although the White House will only receive partial energy from the panels, it's the symbolic first step that will not only help the nation save money and but also establish the U.S. as a leader in renewable resources.
Featured Product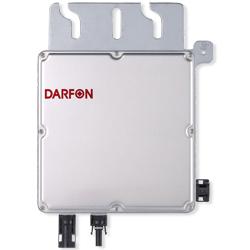 The Darfon G320 is the microinverter solution for today's high-power solar modules. The G320 handles 60- and 72-cell modules up to 350W DC and outputs up to 300W AC. The G320's 3-phase configuration accommodates the electrical distribution systems of most commercial buildings and to reduce, if not eliminate, the need for expensive transformers. The G320 comes in four voltage/phase configurations, so it can be installed in residential, commercial or utility applications.