SUNGREEN SYSTEMS INC PARTNERS WITH BYD AMERICA CORP TO DELIVER SOLAR POWER TO THE SOUTHWEST Two fast growing companies in L.A.'s alternative energy industry are joining forces.
For Immediate Release: October 27, 2010

Contact:
Sandra Nee, Marketing Manager
SunGreen Systems, Inc.
sandranee@sungreensystems.com
626-851-0008
LOS ANGELES BOASTS NEW GREEN TEAM
SUNGREEN SYSTEMS INC PARTNERS WITH BYD AMERICA CORP
TO DELIVER SOLAR POWER TO THE SOUTHWEST
Two fast growing companies in L.A.'s alternative energy industry are joining forces.
SunGreen Systems Inc.,("SunGreen") which develops and installs solar-energy systems, has signed a cooperation agreement with BYD America Corp.,("BYD") a provider of photo-voltaic solar panels and other technologies.
BYD will supply SunGreen with panels from its parent company in China, BYD Company Limited, which is 10% owned by Warren Buffett's Berkshire Hathaway. SunGreen will integrate the panels into systems for commercial and residential customers in California, Nevada and Arizona. The two companies will also cross-promote each other in their marketing materials and campaigns.
"It's an ideal match," said SunGreen Chairman Y.Y. Lin. "We take great care to source only top quality panels. As testimony to their quality and expertise, BYD has already signed deals with the City of Lancaster, KB Home and the Los Angeles Department of Water & Power."
"We're impressed with SunGreen's combined experience in real estate, green tech and architecture." said BYD Business Development Manager Junguo Huang.
The two companies signed a Memorandum of Understanding on October 25, 2010 to commence their cooperation immediately and continue at least through December 2011.
BYD America Corp., is the Los Angeles-based subsidiary of China's BYD Company Limited (http://www.byd.com.cn/), a 200,000 employee firm and US$10 Billion company, which manufactures advanced energy technologies and electric automobiles. With investments from Warren Buffett, BYD is ranked #1 on the Bloomberg-BusinessWeek 2009 Tech 100 List.
SunGreen Systems (http://www.sungreensystems.com) provides solar energy solutions to residential and commercial customers. Based in Irwindale, California, the SunGreen Systems team consists of architects, real-estate developers and solar-energy experts.
###
Featured Product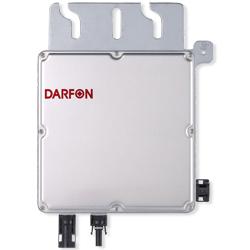 The Darfon G320 is the microinverter solution for today's high-power solar modules. The G320 handles 60- and 72-cell modules up to 350W DC and outputs up to 300W AC. The G320's 3-phase configuration accommodates the electrical distribution systems of most commercial buildings and to reduce, if not eliminate, the need for expensive transformers. The G320 comes in four voltage/phase configurations, so it can be installed in residential, commercial or utility applications.